A Festival to Plead for Skills
Impractical Labor in Service of the Speculative Arts (ILSSA)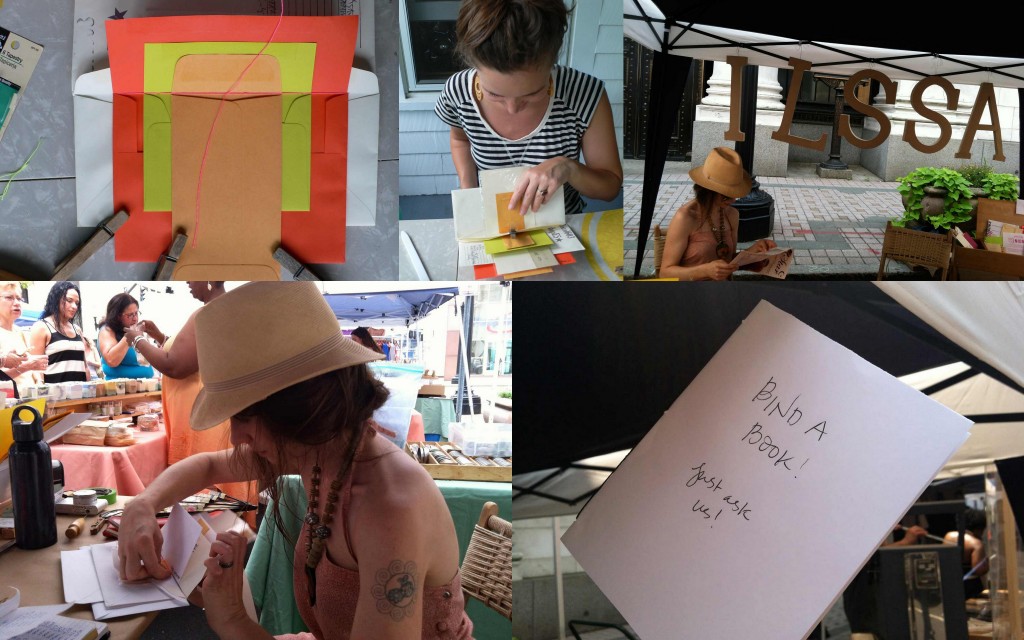 ILSSA Co-Operators Bridget Elmer (in stripes) and Emily Larned (in hat)  practice making envelope books during the Festival to Plead for Skills at the Bridgeport Arts Festival in Bridgeport, CT, July 7, 2012
Once upon a time (in one version of an ancient Chinese myth) a cowherd spied a goddess bathing in a river and carried her off. The goddess fell for the cowherd and bore children, giving up her celestial duty of weaving all the colored clouds of heaven. When the goddess headed heavenward to visit her enraged father, he conjured the Milky Way, effectively separating his daughter from her husband forever. But once a year, the emperor in the sky permits his daughter and her husband to meet. The Milky Way seems to fade as the goddess and the cowherd (seen in the stars Vega and Altair) reunite.
Celebrated in China on July 7 or August 7, depending on the region, Qixi ("the Night of Sevens") is known in Japan as Tanabata (or "Night of the Seventh," first celebrated there, according to the writings of Lafacadio Hearn, in 755 AD). The festival gives an occasion for young women and men—à la the weaver-goddess of the clouds—to plead for skills in craftsmanship. It is known as the Festival to Plead for Skills.
Emily Larned first learned about Tanabata at an exhibition Japanese textiles at MoMA in New York City. Larned had been developing an idea with fellow artist Bridget Elmer to bring together experimental and conceptual artists through the internet, using the model of a union to create an online commons for those eager to ditch the values of the marketplace by exploring obsolete technology. In 2009, Larned and Elmer formed Impractical Labor in Service of the Speculative Arts (ILSSA). Larned describes it as a "member-organization-as-art-project." At its heart ILSSA is an engagement with other makers restless for creative waters outside of our wired and wireless landscapes. Think of Robinson Crusoe in Elizabeth Bishop's rendering, delighting in the memory of his home-made desert-island flute that had "the weirdest scale on earth." Through ILSSA, Elmer and Larned seek out the weird scales of modern-day Crusoes and weaver-goddesses: those who have a serious and (to quote Bishop) "deep affection for/the smallest of [their] island industries."
The Festival to Plead for Skills is ILSSA's key event. Rather than pleading, ILSSA members spend July 7 in practice. A celebration of the generative and meditative experience of slow work (ILSSA's coda is the enthusiastic cry: "As Many Hours As It Takes!!!"), some of the activities from ILSSA members on July 7, 2012, are documented here. These are windows into workshops identified by a local (area code) and shop name. These are views of "impractical" practice: the peculiar act of practicing under the midsummer sky.–Elaine Bleakney
***
Sarah DeWeerdt
Local 206 Shop SD
I participated in this year's Festival to Plead for Skills by practicing embroidery on paper. The object of my attentions was a small ornithology field guide recently purchased at an estate sale. Rather than writing my name or initials inside, I chose to claim ownership of my new book by outlining the six bird silhouettes on the cover with embroidery floss. The result binds together many of my impractical labors: I work primarily as a science journalist, and am also interested in exploring scientific and ecological concepts through traditionally "feminine" media such as embroidery and quilting.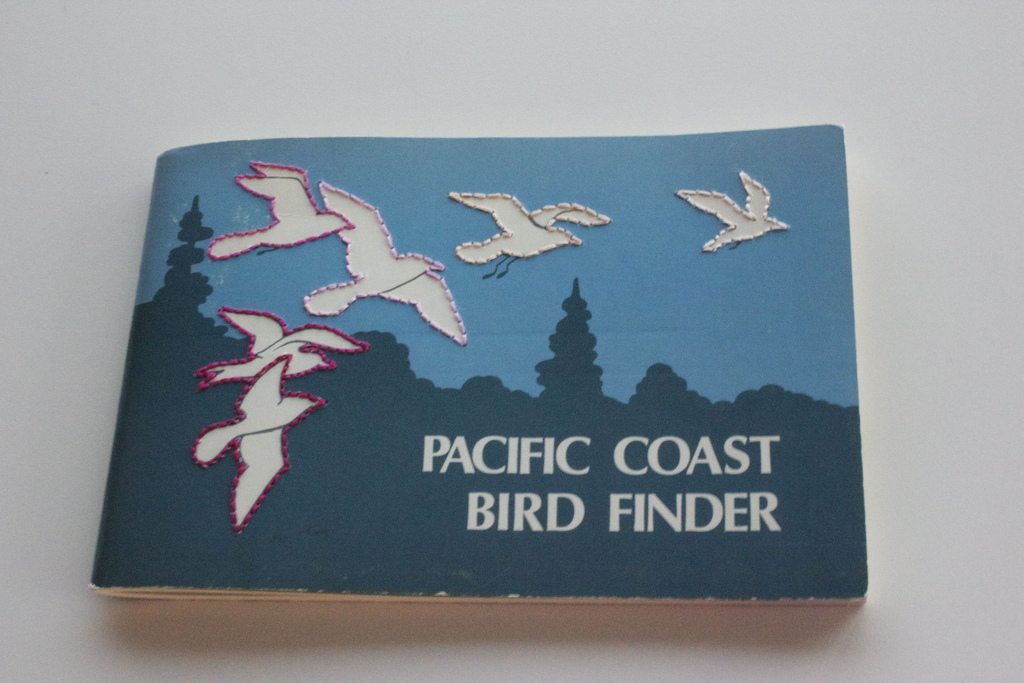 ***
Frances Osugi
Local 402 Shop MMP
A 102-degree summer greeting from Monku-Monku Press! Today I pleaded for the mechanical skills to repair my Dahon III folding bike. I learn best by taking things apart and putting them back together. This little three-speed was a bit more complicated than I thought, but I managed to change the rear tire and brakes. Summer is my least favorite season because I just wilt in the heat. Happiness is found in cruising, swimming, and ice cream for Frances Osugi of Local 402 Shop MMP.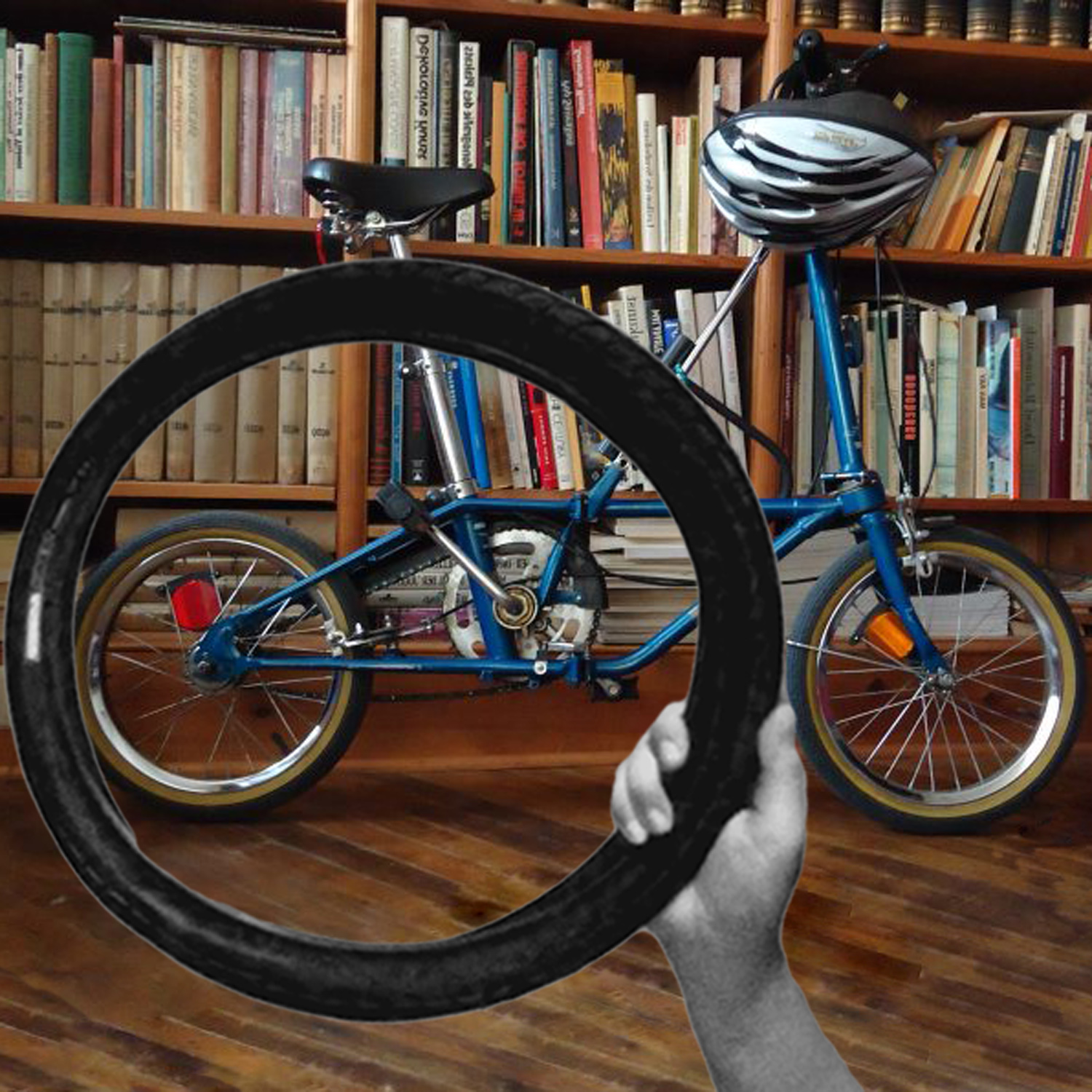 ***
Melanie Mowinski
Local 413 Shop 29P
For the festival I reacquainted myself with my Vandercook Universal III. The Vandercook was given to me a couple of years ago, and on a whim I moved it to a storefront and opened up PRESS: Letterpress as a Public Art Project, a hybrid teaching, studio and gallery space on Main Street in North Adams, MA. During the spring semester and start of the summer, I did not use the press once for a personal project. I instructed students, guided fellow artists, and used a press at Penland School of Crafts, but not my own. So I spent the Festival giving my Vadercook some TLC in the form of oil and grease. Then I embarked upon printing a fold-out for a book project. I played around with spacing and leading to place short lines of text across one page, and printed a polymer plate with text on another sheet. It felt great to be with my powerful, flexible machine again, and to remind it of my love for it.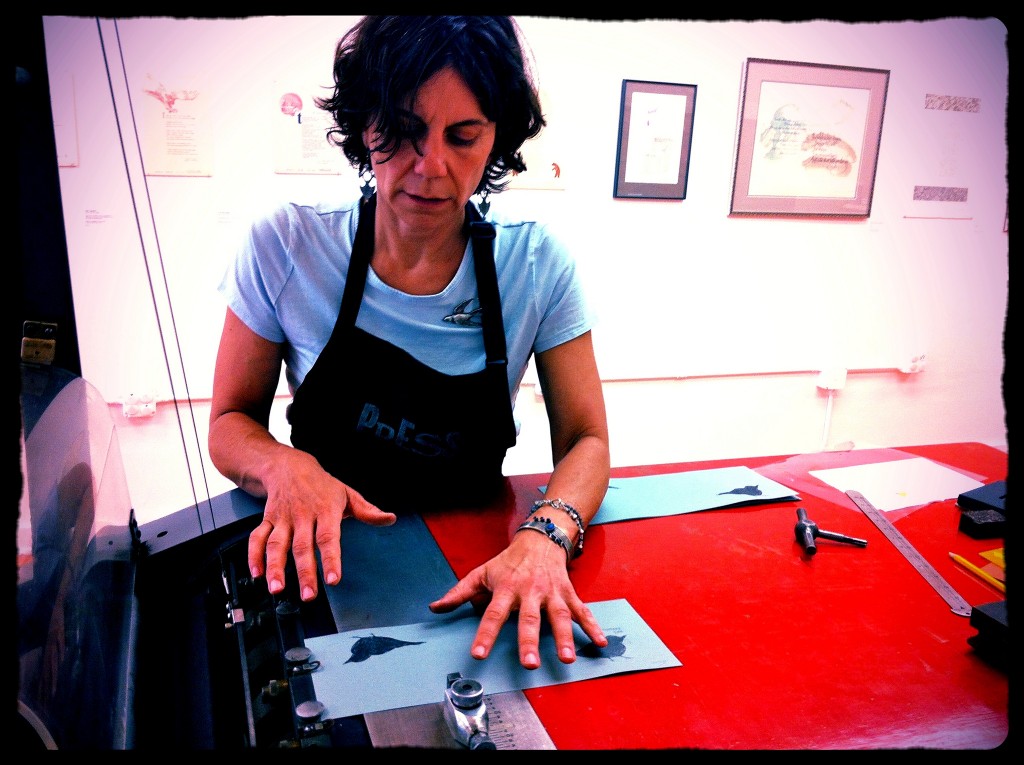 ***
Amy LeePard
Local 205 Shop PB
In celebration of the Festival to Plead for Skills and in the spirit of practice, I worked on cutting and assembling two-by-two inch slides made of black card and printed vellum. These mock slides are fragments of larger printed images, which have been cut down into two inch squares. I mounted the vellum image fragments between two pieces of black card cut into frames resembling 35mm film slide mounts. I cut each frame from larger pieces of black card, using a handmade jig to maintain a consistent size. My upcoming MFA thesis involves a focus on silence and contemplation as elements of practice. This Festival gave me an opportunity to try out new ideas and techniques as sketches or mock-ups for future work.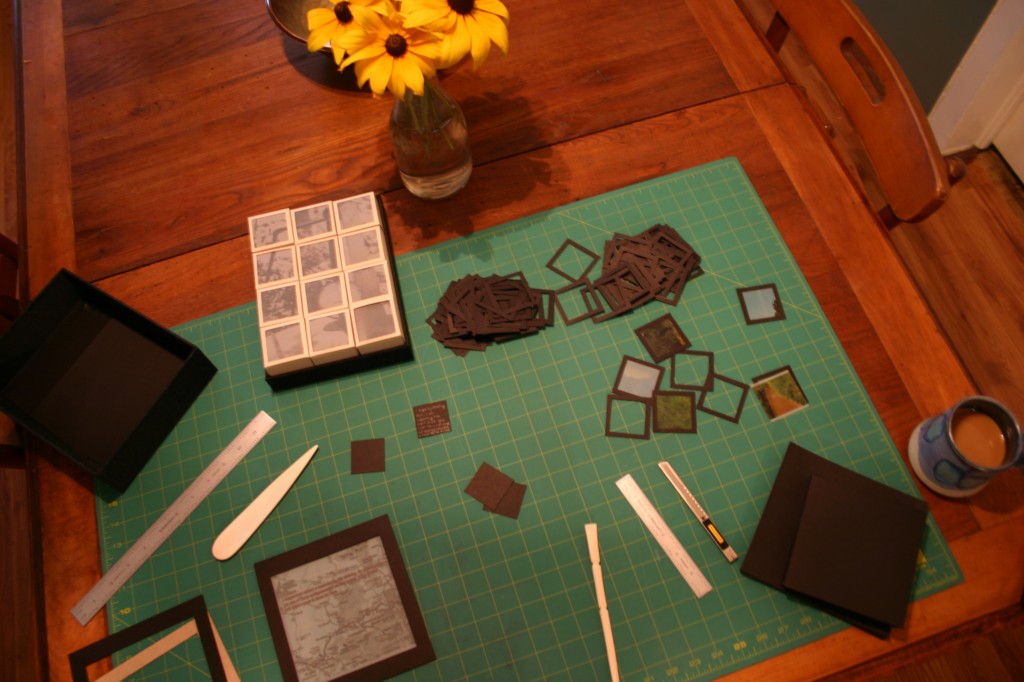 ***
Lyman Edwards
Local 850 Shop LL
In an attempt to learn the finer points of designing and shaping longboard skateboards, and in preparation for an upcoming workshop teaching middle and high school kids the same, I spent the Festival day building my first in-house longboard. Using nine ply baltic birch plywood, a jig saw, several sheets of sandpaper, a sanding block, painter's tape, wood stain, and polyurethane, I cut, shaped, sanded, and painted my way to a rather successful new board. This endeavor, in good holding with a long standing practice of repairing, designing, and operating various forms of wheeled transportation, was the most recent and perhaps mechanically simplest incarnation of my love for mechanical propulsion. By the end of the day I was able to test ride my new longboard with manageable results. During its maiden voyage I quickly learned the limits of my skateboard design knowledge. A few minor adjustments and some additional sanding later…success. Version 2.0 shall be built with this new knowledge in mind.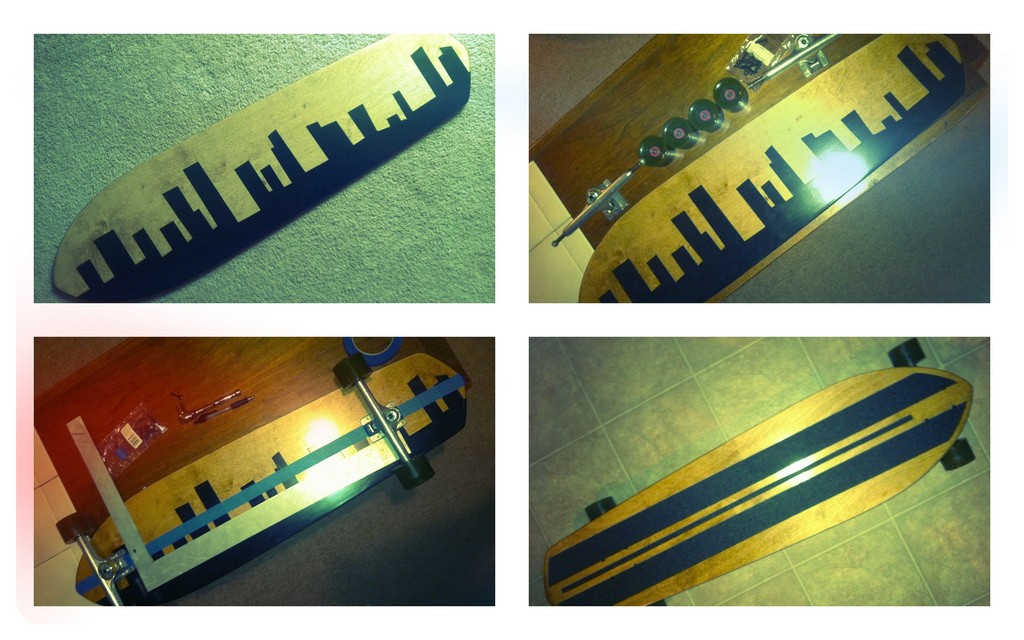 ***
Rebecca Gilbert
Local 503 Shop FP
I spent the day continuing to build a form for a small print. The AlphaBlocks type I am using for this project is designed to fit together in a grid, offering a variety of options for shapes and letterforms. The print is two by three inches and is a sort of visual representation of the interior of a beehive, this one focusing on the honey flow. I'm having great fun creating color separations. So far it is comprised of six letterpress print runs, and will probably be nine or ten colors before completed.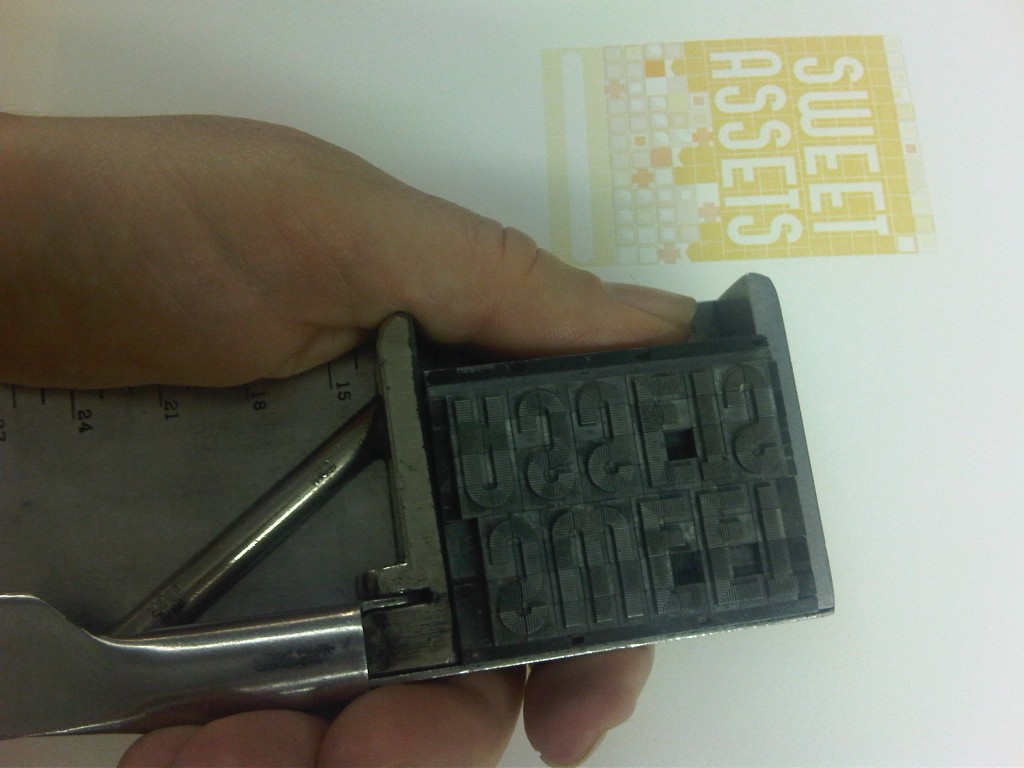 ***
Theo Stewart-Stand
Local 718 Shop TS
This is an attempt at creating spinning utensils. It gives you the vantage point from the place mat. 
I had a bit of back and forth with the local drug store where I printed the images. Take care, Theo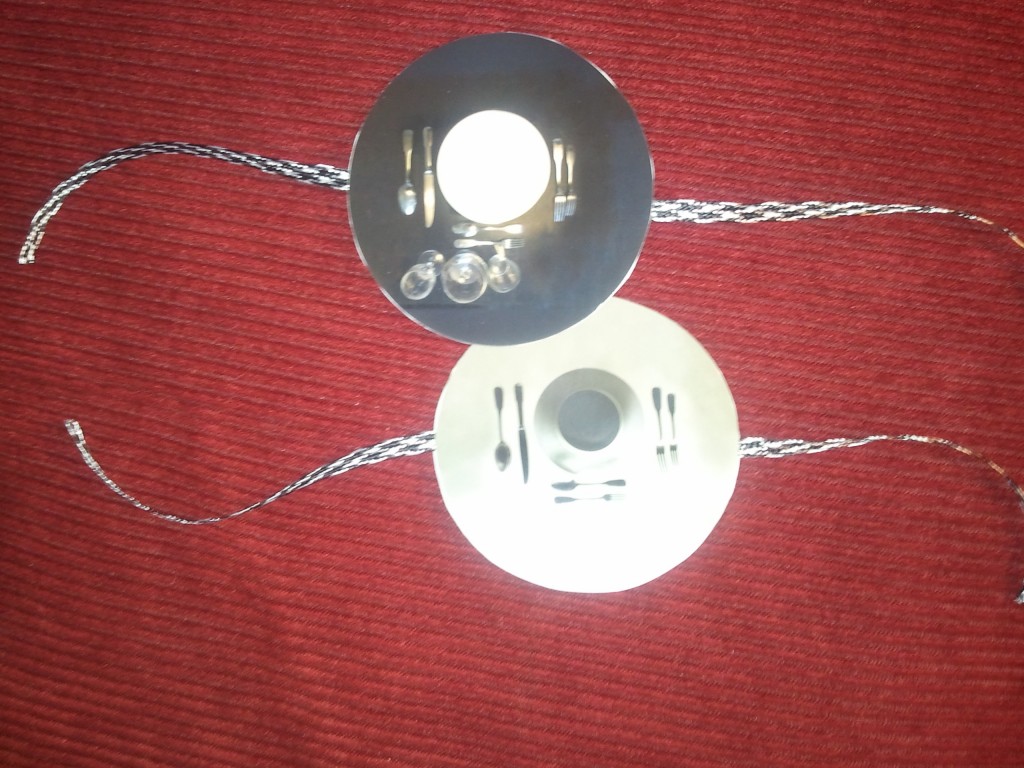 ***
Erin Sweeney
Local 603 Shop ES
On July 7, 2012, I celebrated the Festival to Plead for Skills here in southern New Hampshire by practicing the piano hinge album structure. I had made this structure only once before and then had attempted to teach it in one of my Book School classes this past spring at my shop. Because I had not made the structure since 2008, I promptly screwed up one of my students' books. I've been exploring album structures of late in order to teach them successfully. Practice went well, many notes were made, and more changes within the making of these albums will occur in the forthcoming weeks…as many hours as it takes!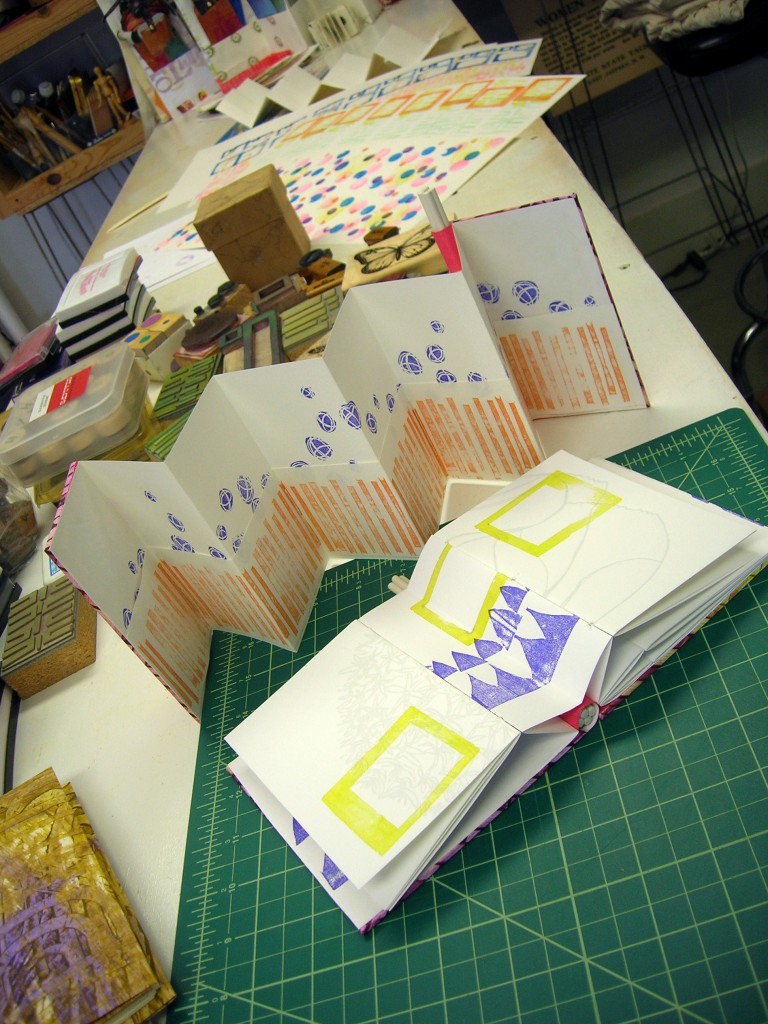 ***
Kathleen Richert
Local 612 Shop KR
I did spend July 7 practicing a skill–rendering landforms with watercolor. I was on a solo cross-country painting trip so couldn't photograph myself at work. Instead, I offer this image of my watercolor block and paintbox overlooking the Methow River Valley in Twisp, WA. I'm always amused with people's response when I tell them these are my vacation pictures. As long as it takes!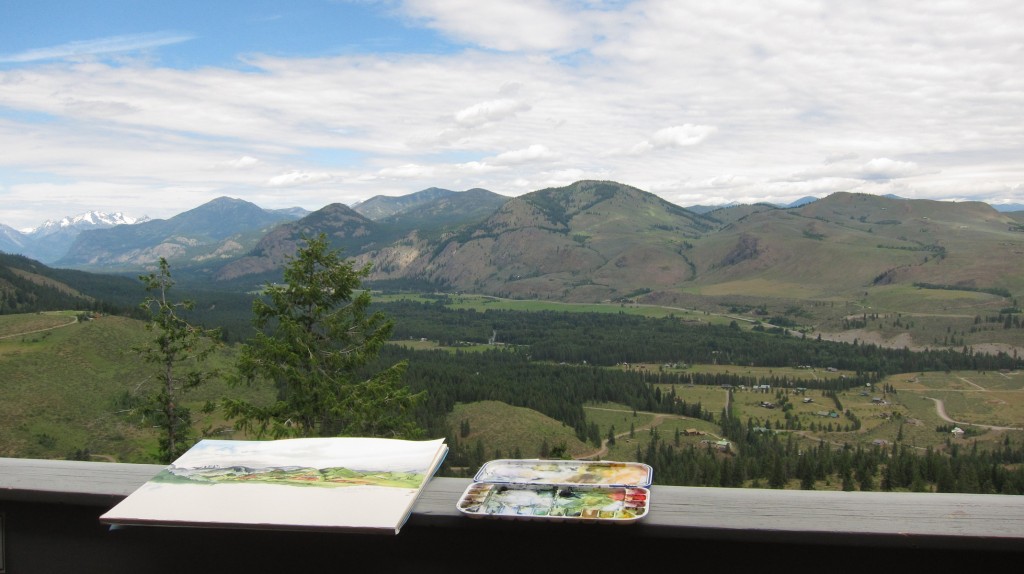 ***
Scott McCarney
Local 585 Shop VB
I started making rubbings of books in the school library last winter, an extension of an ongoing project mapping the migration of information from analogue to digital sources. It was a rather eerie and melancholic endeavor, as the practice of making rubbings of tombstones in cemeteries is not foreign to my experience. I employed my graphite and thin papers in my personal library for the fourth annual Festival.
I've made a point of practicing skills with archaic and impractical materials and processes for the Festivals, from creating botanical illustrations utilizing "wite-out" on tar paper to returning my nipping press to its printing roots, making monoprints with black raspberries (the berries come into season the first week of July). It throws a different light on what I take for granted as my practice.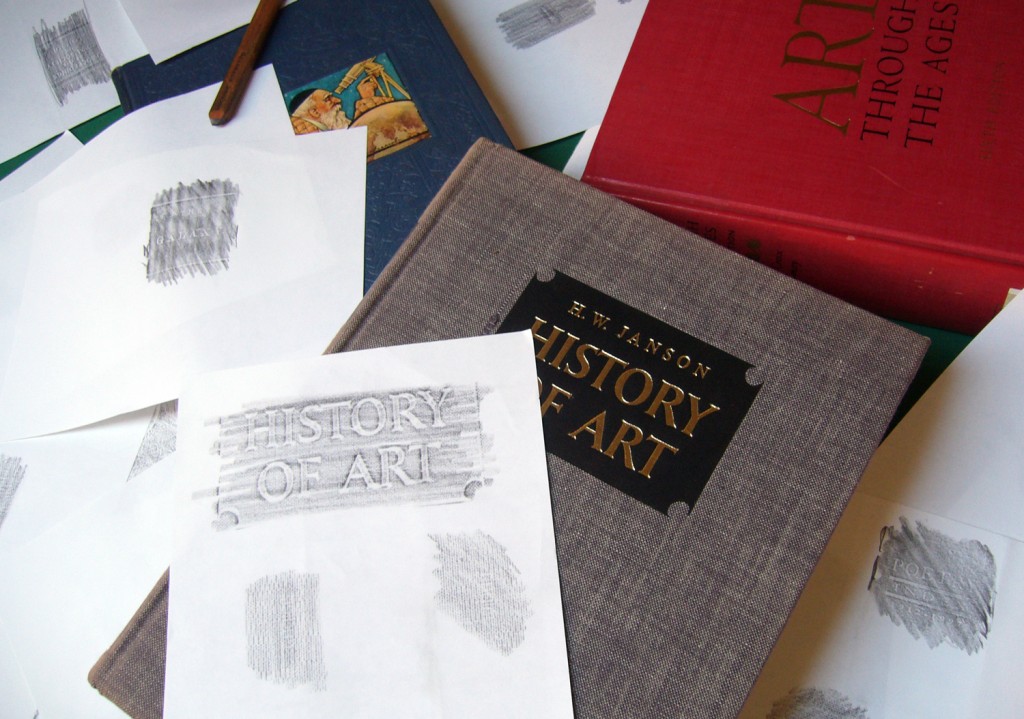 ***
Marilyn Brogan
Local 804 Shop MW
When I finally decided what I wanted to practice I was so relieved!  I'm a studio jeweler/metalsmith and I wanted to practice a related skill. I had this roll of pennies around so I decided I would use them to practice torch-fired enameling, a newly learned skill. To get the most out of the pennies I flattened them in my rolling mill before enameling. I quickly discovered that the metal inside of pennies has a low melting temperature: two of the fifty pennies were melted to death. It smelled really bad. After some readjusting I decided to practice scoring and bending–a tedious, laborious process that until the Festival I had tried to avoid.
The process goes like this: mark the metal deeply with a scribe where the fold will occur. Use a square file to remove metal, then file almost through the metal. Then fold. I followed these steps around ten times before deciding that the game had to change.  I flattened the remaining pennies, thinning them so that less filing would be needed.  I worked with these newly flattened pennies for a while before deciding to flatten them again–my fingers were sore and my neck stiff. During the third pressing I had a breakthrough moment: by sandwiching a thin wire between two pennies, the scoring was complete and I could avoid filing all together! My Festival practice showed me another approach to an intimidating process and introduced a new element to my work!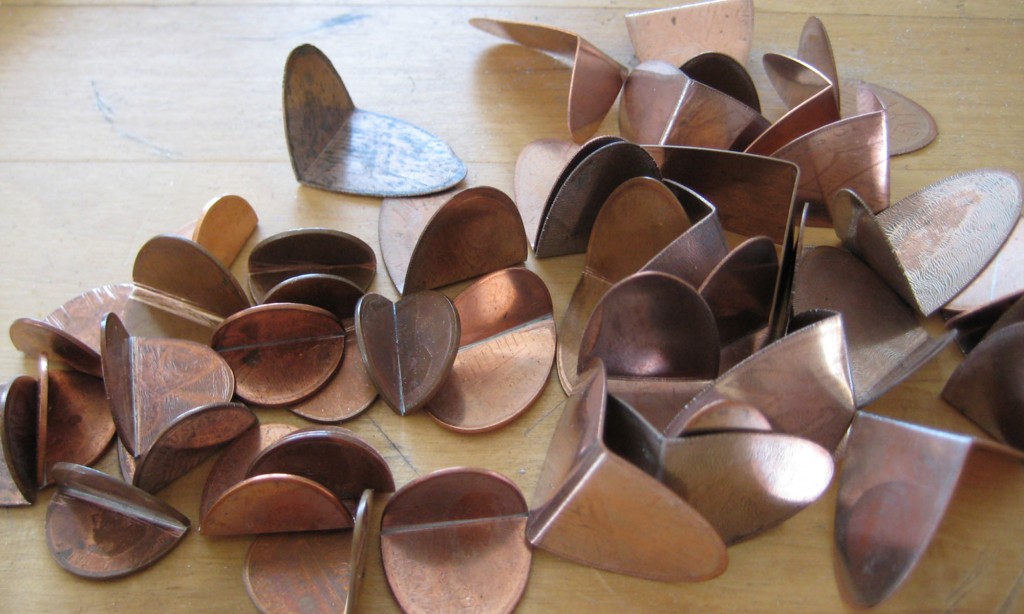 ***
"Michael" Cunningham
Local 847 Shop "M"
For the Festival I learned to solder a lap joint: a technique for joining two pieces of metal by overlapping them. Because I had no previous experience soldering, I limited the day's goal to a single technique, one that would be easy to assess as successful if I had a few finished samples, but no finished product, at the end of the day. A couple days ahead of the Festival I read some soldering tutorials and the night before I watched a how-to video by Tinplate Girl. I also gathered supplies.When my father-in-law, David Arnold, died, my wife inherited a basement workshop full of supplies. I raided that workshop to find the sheet metal, flux, solder, and soldering iron for the day's practice. The raid added a good measure of soldering juju instilled by the previous owner.
Soldering proved to be relatively easy and by mid-afternoon I had three very strong and relatively tidy lap joints. I finished by making a well-soldered, but slightly misshapen cube. (My metal cutting and bending skills need practice; I only had time to hone a single skill.) Festival day has opened up the possibility of using soldering to create display mountings for my main practice, hand-carved ceramics. Although I only worked on a single technique, I did find helpful online resources and feel quite confident about my ability to pick up more soldering acumen as needed.
***
Rachel Heberling
Local 717 Shop REH
In observance of the Festival to Plead for Skills, I decided to hone my technique of using a Dremel tool for making woodcuts. As an artist, printer for professional artists, and instructor/assistant in Cincinnati, OH, I've mostly worked in intaglio and lithography. I had never done much of my own work in relief printmaking, and had only used gouges or chisels as tools. So this day I dremeled out an entire block to be used as a calendar page for a fundraiser benefitting Tiger Lily Press. The initial results leave a bit to be desired, but I've greatly improved and will certainly continue with this new technique. It produces more fluid lines, which are much closer to my drawing style.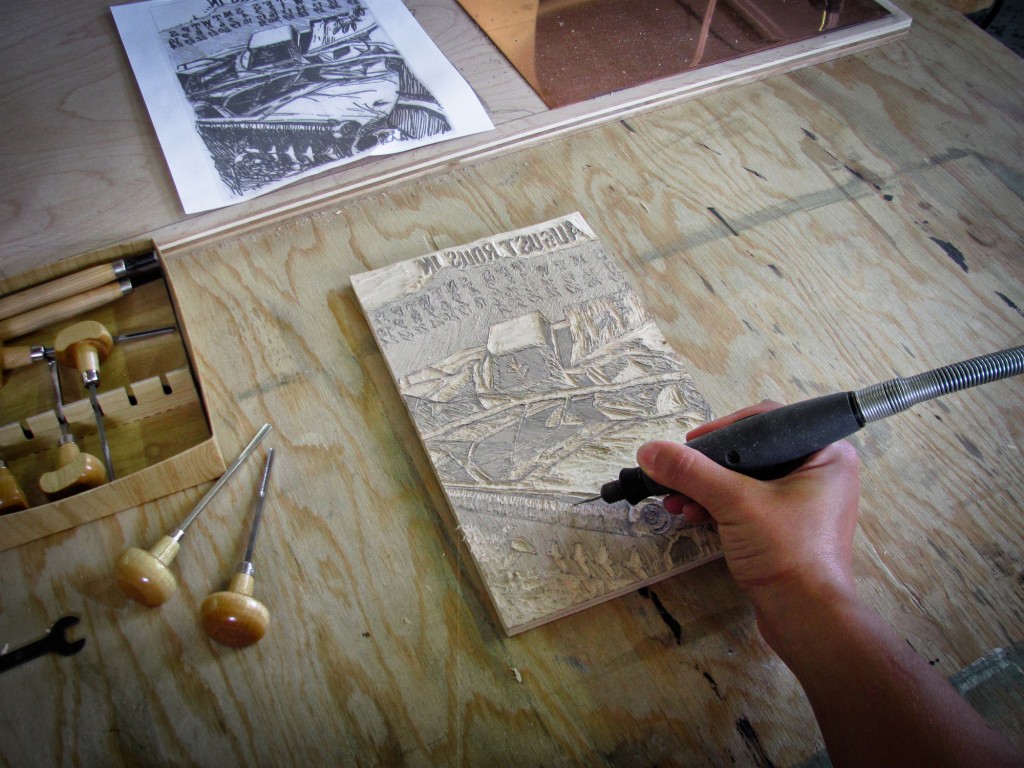 ***
Karen Zimmermann
Local 520 Shop KZ
On July 7 I practiced printing. It was nice to just practice on the Vandercook Univeral 1 AB. I had a few unplanned practices of changing the typman, adjusting the adjustable bed, and returning some lead to its proper home. I practiced keeping clean. Always a challenge.
***
Jay Fox
Local 828 Shop JF
I yearn to make things right, and to make things work. This tendency was reinforced with years of running and maintaining printmaking studios, where my practice was as much fixing as it was creating. Now I embrace my desire to fix the things I encounter. My latest endeavor has been to fix rocks; over the past few months I have gathered rocks from my day-to-day adventures, slowly amassing a menagerie of stones with ailments and shortcomings. During the Festival to Plead for Skills, I spent the day sculpting, investing and casting the missing pieces, filling the voids, and repairing the cracks of a few stones to start. Small bronze memorials that repair, complete and augment the broken.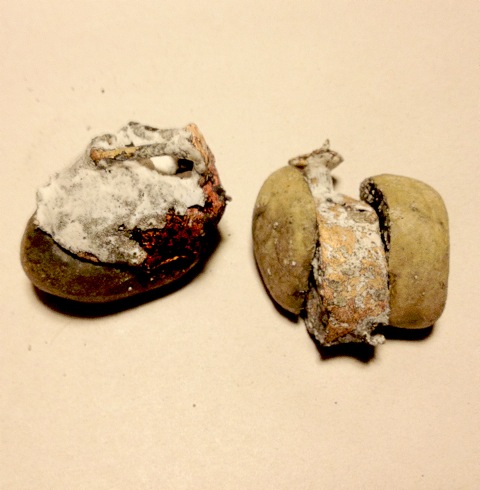 ***
Ray Tomasso
Local 303 Shop IOCS
I cut end-grain maple-wood block then carefully sanded and polished the perfectly flat surface to type high. The black object is a type high gauge. The center line indicates exactly type high.The blocks are sitting on a sheet of plate glass where sheets of 80, 120, 150 and 220 grit have been glued. The blocks will be used for wood engraving or wood type for letterpress printing.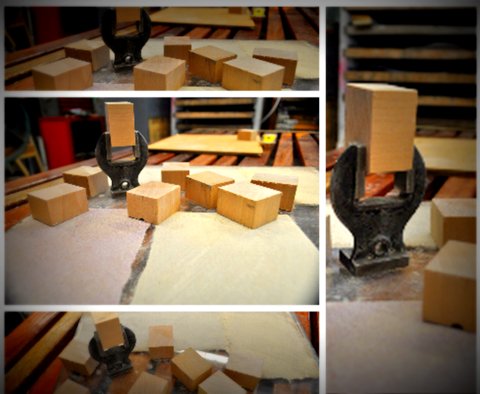 ***
Bridget Elmer is an artist, bookmaker and letterpress printer working in Asheville NC, where she is rebuilding her platen press, tuning up her 1966 flatbed truck and retrofitting open source philosophy to book technologies. She has been a resident at the Small Craft Advisory Press (SCAP) at Florida State University, and taught courses at Ox-Bow, Colorado College, the University of Alabama and other institutions. She is co-founder of Impractical Labor in Service of the Speculative Arts (ILSSA).
Emily Larned is an artist, writer, designer and letterpress printer-publisher. She makes publications, most often by hand, and organizes collaborative projects that, generally speaking, seek to improve the quality of life. Her artist books and publications are collected internationally, including by the Tate, the Getty, the Walker, the V&A, the Smithsonian and the Brooklyn Museum. She is co-founder of ILSSA and the current chair of the Graphic Design program at Shintaro Akatsu School of Design at the University of Bridgeport, CT.
Sarah DeWeerdt is a freelance science writer and editor living in Seattle.
Frances Osugi is the founder of Monku-Monku Press, based in Nebraska.
Melanie Mowinski is a teaching artist at the Massachusetts College of Liberal Arts and founder of PRESS: Letterpress as a Public Art Project, both located in North Adams, MA.
Amy LeePard is a 2013 candidate for the MFA in Book Arts at the University of Alabama in Tuscaloosa where she creates book works under the imprint Painted Bunting Books.
Lyman Edwards lives in Asheville, NC, where he restores and revives old machines including bicycles, scooters, motorcycles, classic cars, sleds and anything else that is a tool for mechanical movement.
Rebecca Gilbert lives in Portland, OR. She is co-owner and operator of Stumptown Printers, a volunteer at the C.C. Stern Type Foundry, and a founder of the Independent Publishing Resource Center, as well as an enthusiastic gardener, beekeeper and nap taker.
Theo Steward-Stand is the co-founder of the design firm Stewart/Stand based in Brooklyn, NY.
Erin Sweeney is an artist living and working in New Hampshire. She completed her MFA in Book Arts and Printmaking at the University of the Arts in Philadelphia, PA, where she was awarded the Elizabeth C. Roberts Prize for Graduate Book Arts. She holds a BFA in sculpture from the Maine College of Art in Portland, ME.
Kathleen Richert lives in Minneapolis, MN. She makes handmade illustrated books documenting her travels.
Scott McCarney is an artist and educator based in Rochester, NY, who has worked primarily in book form for thirty years.
Marilyn Brogan is a designer and metalsmith. She owns and operates Meander Works, a custom-jewelery shop in San Diego, CA. More photographs from her Festival practice with pennies can be viewed on her website.
"Michael" Cunningham "carves words and images telling tales in clay."
Rachel Heberling lives in Cincinnati, OH and teaches courses at Tiger Lily Press.
Karen Zimmermann is an artist, educator and designer. She teaches design at the University of Arizona in Tucson.
Jay Fox was raised in western North Carolina. He received his BFA from Savannah College of Art and Design in 2008 and is currently pursuing his MFA from the University of Wisconsin-Milwaukee.
Ray Tomasso is an artist and proprietor of Inter-Ocean Curiosity Studio in Colorado.