"True – green in nature represents new growth, rejuvenation. It's the first sign of spring after a long winter.  As a natural dyer, the abundance of green in nature is somewhat of a paradox, since no plant can give a vibrant green dye. It must be mixed with yellows, reds and the mysterious indigo to create the color nature has provided in such abundance."
Pamela Feldman, Weaving the Lurie Garden, 2011; 32 × 32 inches; four-selvedge wool plain weave, brass brads, plywood; indigo, madder, cochineal, stick lac, weld, osage orange, cota and fustic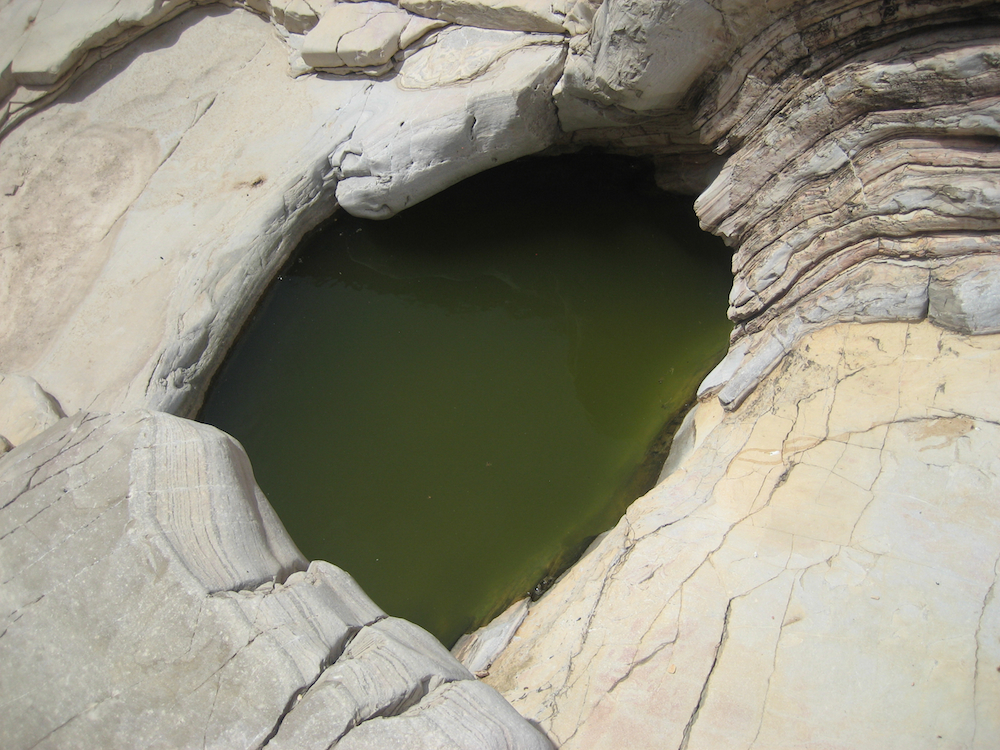 Claire Sherman, green pool, photograph emailed in response to John Muir.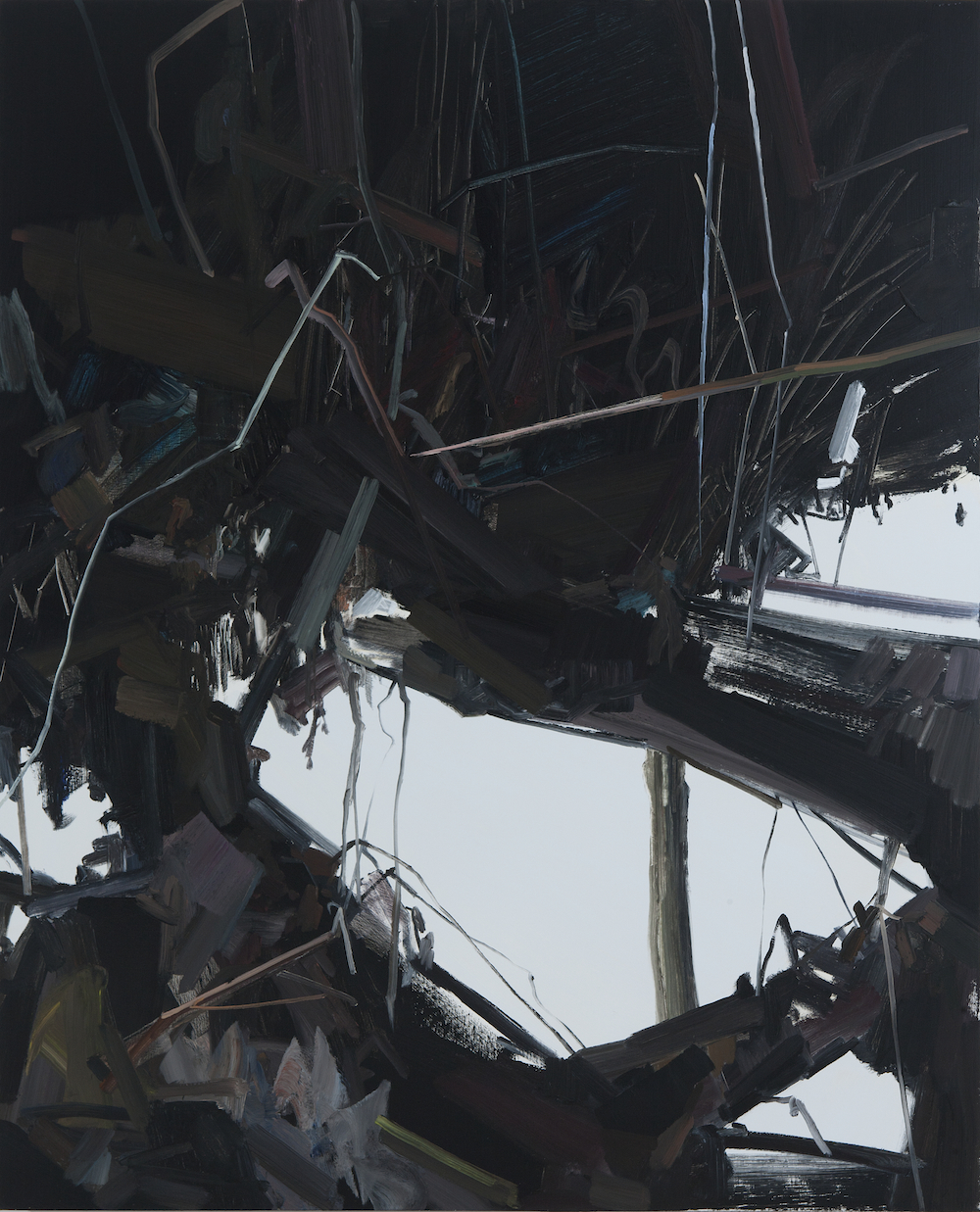 Claire Sherman, Dirt, 2012, oil on canvas, 72 × 60 inches
"Nature is our paradise lost, and we yearn for its reemergence and its existence. Governmental agencies demarcate official areas of wilderness. Manufacturers advertise the benefits of natural sodas. Biologists and ecologists team with filmmakers to produce wildlife documentaries. Reality television shows depict humans surviving in the wild. Markets offer diverse heirloom tomatoes alongside genetically-modified produce. The backpacker seeks solitude and respite in wilderness, and a family retreats to a mountain cabin. Students study Thoreau's Walden and imagine Nature's transcendence."
–James Kao (from his catalogue essay for Chrome Green)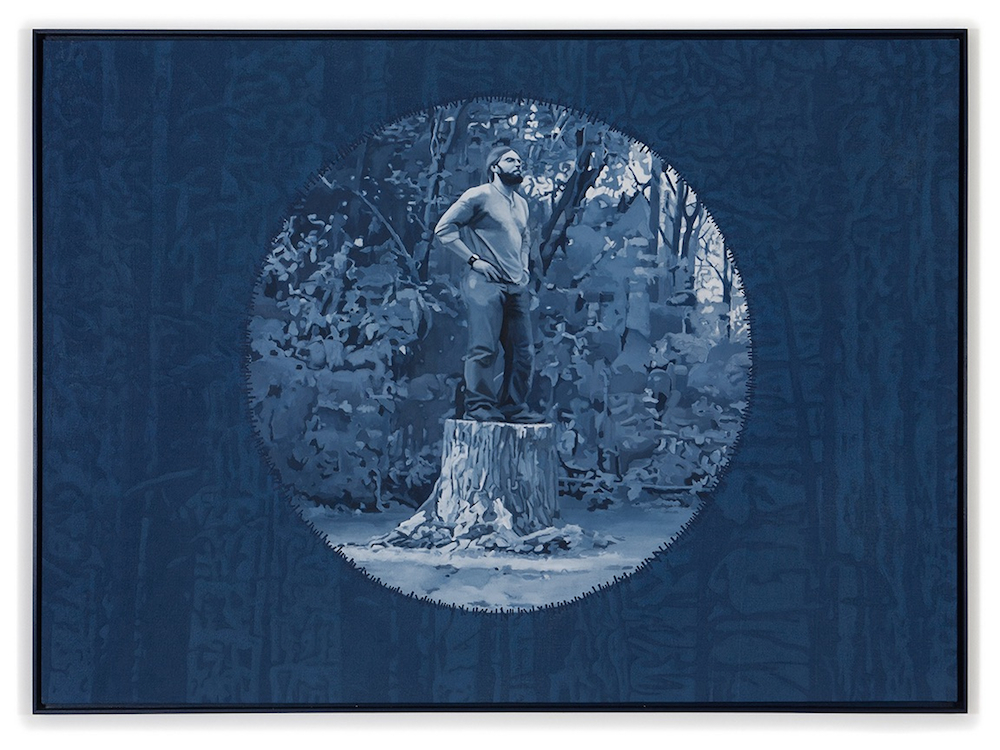 David Robbins, Joshua at Governor Dodge State Park, 2011, acrylic on canvas, 70 × 50 inches
David Robbins, Situation Comedy #1, 1994, Cibachrome, 30″ x 40″ (emailed in response to John Muir's statement.)
"I had a painful separation with someone I love and I went to the woods to find solace. One night I rested on a log in the meadow. I laid there in my sleeping bag and watched bats fly over me and the stars emerge. Shooting stars left and right, everything was so beautiful, but it all reminded me of her."
–Andrew Chuani-Ho, writing in response to John Muir
 Andrew Chuani-Ho, Remedy, colored pencil on paper, 24 x 26 inches (image emailed in response to Muir)
Jo Hormuth, Better Grammar (fourteen) for Heaven, 2015, archival Lambda pigment printed photographs 74" X 50". Works from the Better Grammar series are arrangements of close-up photographs of plants, taken using a macro lens, to capture areas of monochromatic color. For this exhibition, photos are arranged to reference notes on a musical score. Earlier works from the Better Grammar series are face-mounted to quarter-inch, non-glare acrylic and arranged like words in a text format.
"This summer, I spent a lot of time walking through the woods in central Maine. I was with my dog, so I wasn't completely alone. Sunlight hit the leaves; birds rustled and chirped. There were deer in those woods. My dog happily and fruitlessly chased them. The setting was both green and tranquil, and those hours were restorative.
However, there were times, while in a birch thicket, when I whistled for my dog and it sounded as if someone was whistling with me. There were moments when I heard branches breaking in the distance and found scat that belonged to animals much larger than deer. Often, I saw things out of the corner of my eye that turned out to be shadows. That location, however tranquil, was foreign to me and there were moments when I was afraid. I was an interloper and there were things in those woods, perhaps spirit, perhaps animal, that could do me harm."
–Lilly McElroy, writing in response to John Muir
Lilly McElroy, I Control The Sun #1, 2013, archival pigment print, 40 × 40 inches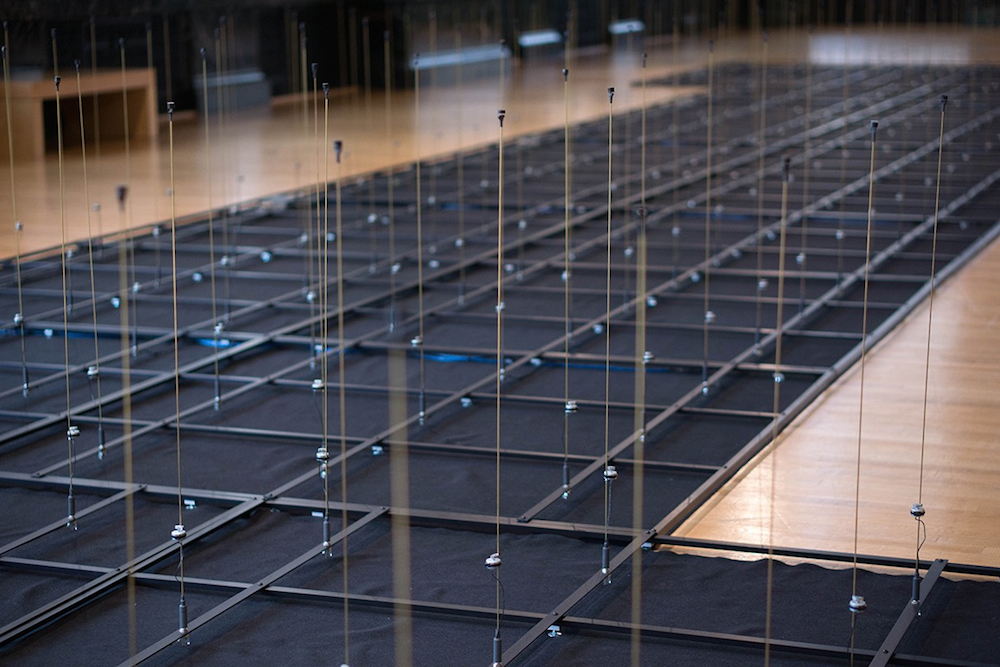 Shawn Decker, installation view of Prairie, 2013, 432 thin rods with small speakers at the tip and vibration motors near the base.  Photo credit: Alan Labb
"Agree. Except maybe it can't cure all afflictions.  Though most of civilization's achievements seem like Pyrrhic victories at best, I think I'm with Kim Stanley Robinson when he says the best thing would probably be some sort of hunter-gatherer culture – but with dentists.  And of course nature has green, tranquil woods, but it has a lot of other things too.  You don't have to be Schopenhauer to see this. I remember finding a starving orphaned baby bird when I was a child.  On top of all its other troubles, its body was crawling with tiny mites. Where the Muir quotation seems drastically simple, Emerson celebrates nature in a much more complex way.  I understand the 'perfect exhilaration' he describes feeling while walking across a landscape. A large part of nature's meaning for us has to do with its indifference and often its cruelty. Its vast way of just sort of existing on scales of time and space that we can't grasp.  Nature exceeds our comprehension and then adds some orders of magnitude for good measure. Yet its structures, appearances, sounds and smells resonate with us; we are part of it. We shouldn't make the mistake of thinking that it was made for our own use and enjoyment.  Douglas Adams brilliantly compared this sense of human entitlement to the complacent pride a sentient puddle might feel when it notices just how perfectly it fits into its depression, all the while evaporating."
–Nathaniel Robinson (his sculpture appears below)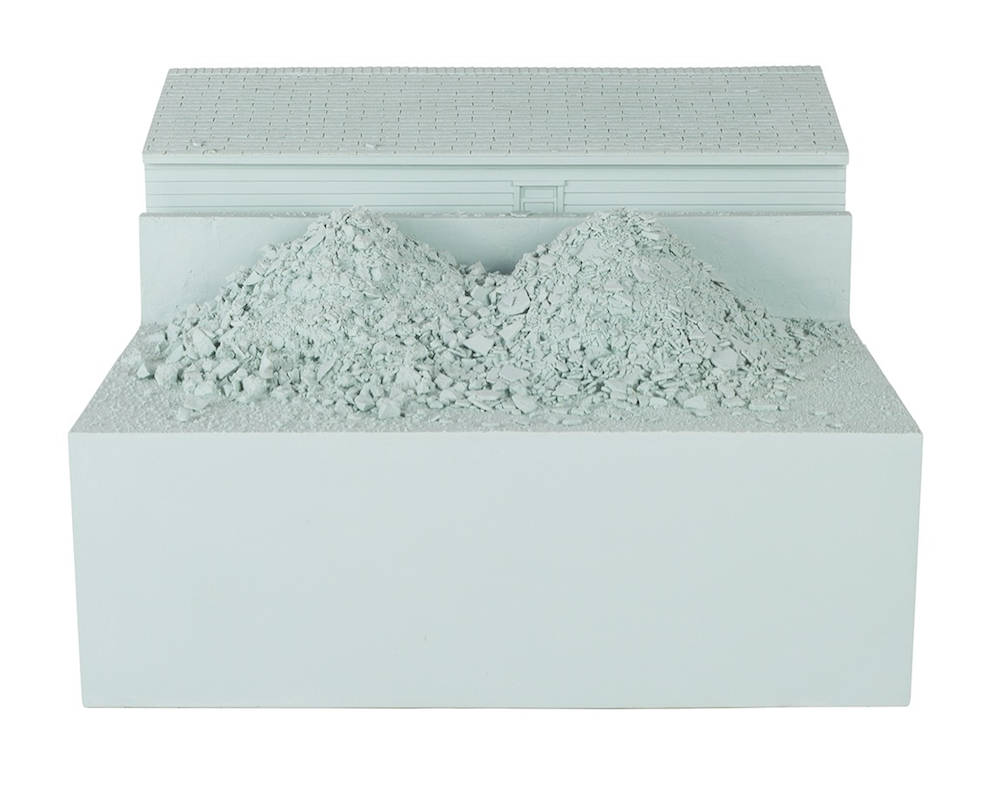 Nathaniel Robinson, Repose, 2015, pigmented polyurethane resin, 9.25 × 14 × 14 inches, edition of 2. Photo credit: Sara Maria Salamone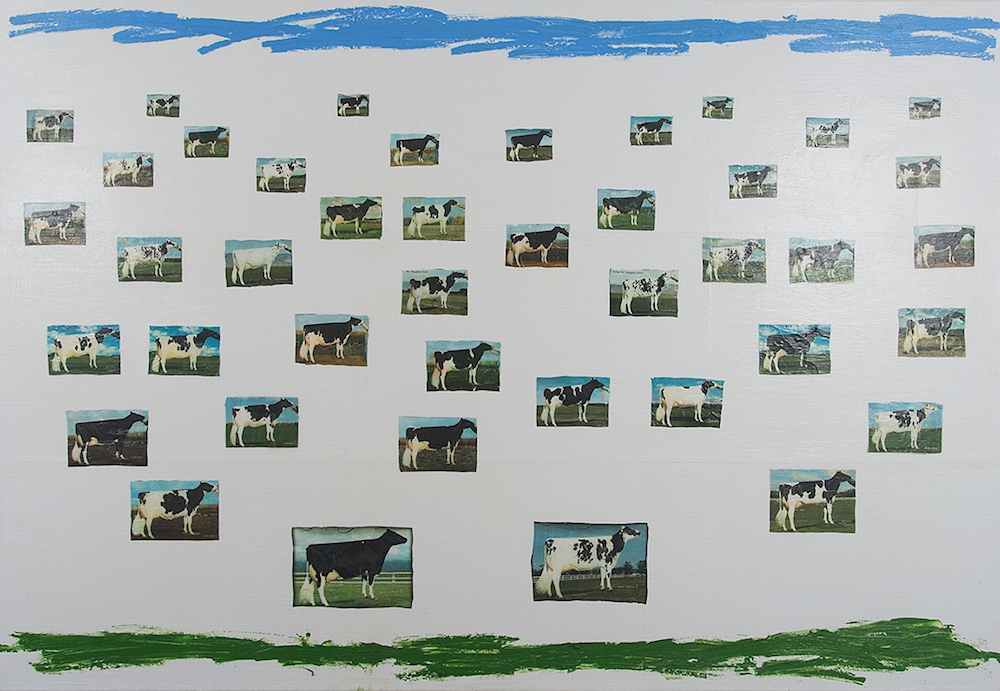 Isabella Kendrick, Landscape with cows #1, 2015; acrylic transfer, paper, oil stick and acrylic on canvas; 34 × 48 inches 
"For me, 'green, tranquil woods' could be:
1. Watching the sun set over the Rocky Mountains
2. Flying over a city at night in an airplane
3. The time of day when the ocean and the sky are the exact same dark color and the horizon disappears
(an incomplete list)"
–Isabella Kendrick (her work, Landscape with cows #1, appears above)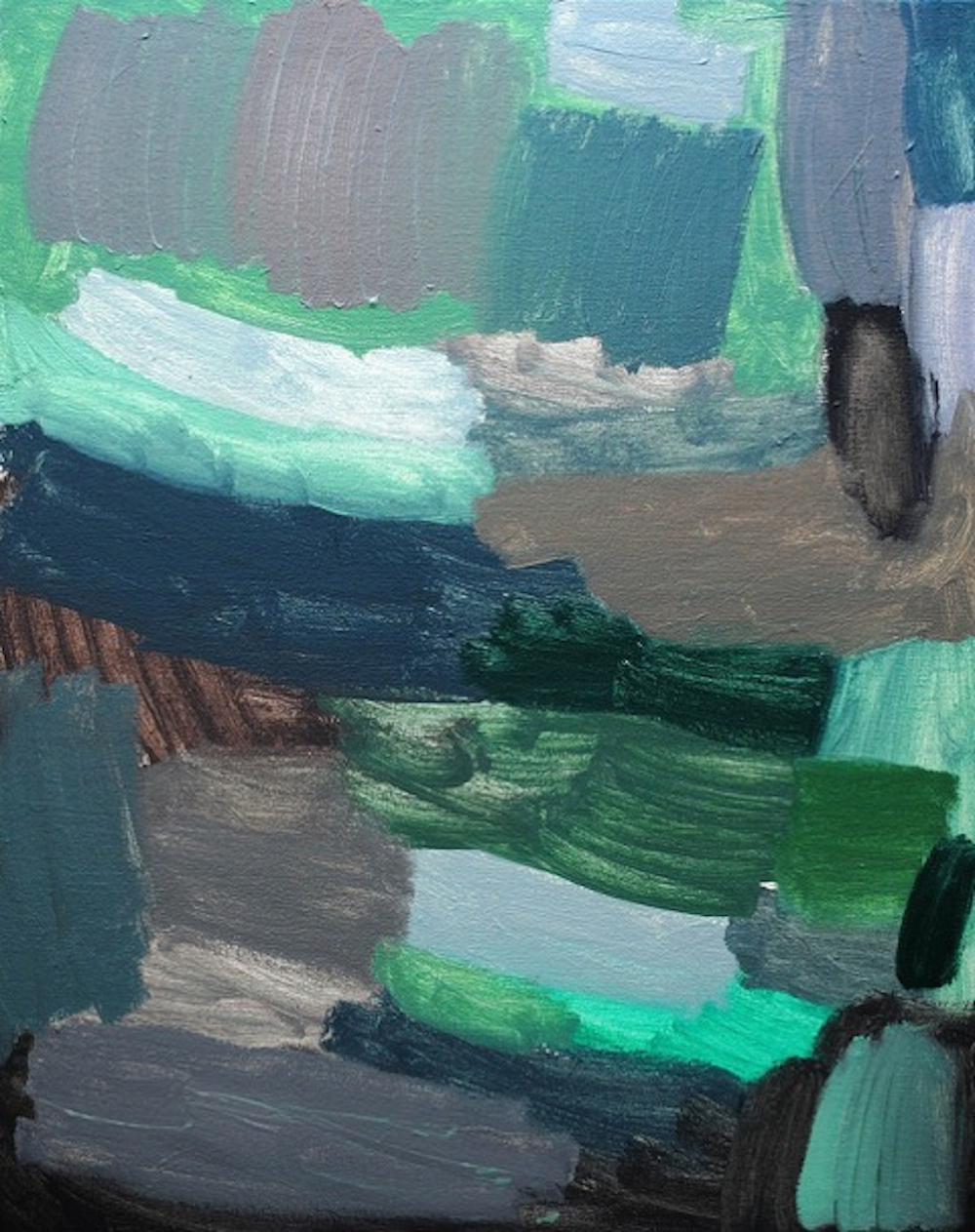 Howard Fonda, untitled (landscape), 2014, oil on canvas, 30 × 24 inches
–
About the Artists
Andrew Chuani-Ho's color pencil drawings depict everyday scenes populated with anthropomorphized animals. A blue dog dressed in a No. 33 Knicks jersey, a disguised depiction of the artist, plays protagonist. Chuani-Ho uses this dog as self-portrait to portray human identity through a symbolic and animalistic lens.
Shawn Decker's electro-acoustic audio installation recreates naturalistic sounds with electronic equipment. Speakers and metal rods vibrate with sounds that make visual a familiar, natural environment and immerse his audience in an illusion of peaceful nature—one that is both observed and felt.
Pamela Feldman produces natural dyes from plants and fixes the otherwise ephemeral, natural colorants to woolen yarn. Feldman weaves her colors together on a loom in her studio that overlooks her garden of dye plants. "For me," Feldman says, "the art of making color and the process of weaving with those colors represent a record of my existence."
Howard Fonda's paintings explore the experience of nature with emotional intensity. In Fonda's abstract paintings, clump-like arrangements of color suggest forest landscapes that hover at the edge of formlessness.
In Jo Hormuth's multi-panel color installations, each monochrome photograph represents a small section of a plant, distilling the natural color. Light refracting through face-mounted acrylic produces a gem-like glow.
Isabella Kendrick appropriates images of cows from cattle catalogs, where the vernacular photography captures each animal with precise uniformity. Kendrick composes groupings of these images in systematic sequences that suggest a framework of meaning and sense-making that liberates the cows from their context as commodity.
Lilly McElroy's photographs and videos investigate our instinct to control. With a sense of playfulness, McElroy enacts fantasies of control over natural phenomena. In Pushing Down a Sapling, a dual video, McElroy violently hurls herself at a tree until she and her inert opponent are both visibly damaged.
David Robbins produces videos that, unlike most television, put visuals ahead of story. In The County Line (2011/2015), Robbins animates musing conversations from a camping trip, in a video that blends recorded footage with images and text. Another series of videos appropriates the format of public service announcements to alert us to aspects of our constructed reality. These short and punchy videos question cultural precepts about the imagination, the garden, the avant garde, and the suburbs.
Questions about the nature of knowledge and observation form a continuous undercurrent in Nathaniel Robinson's work. Repose (2015), a cast resin sculpture resembling an architectural model, depicts a simple building beside two piles of a granular substance, similar to dirt. The title alludes to the angle of repose theory, a method for calculating the shape a pile of granular material will assume depending on its density, surface area, and friction. The pile's form is dictated by its nature.
Claire Sherman makes large-scale landscape paintings of unoccupied nature that express its sublime and fearsome beauty. Sherman's Dirt paintings suggest claustrophobic views of a tumultuous natural world. The paintings' weighty materiality and poverty of color evoke a sense of brooding dread.
–
About the Curators
James Kao is an artist who makes paintings and drawings. He holds a BA in Philosophy from the University of Chicago and an MFA in Painting and Drawing from the School of the Art Institute of Chicago. One person exhibitions include Toomey Tourell Fine Art (San Francisco), Adds Donna (Chicago), Lloyd Dobler Gallery (Chicago), and Patricia Ladd Carega Gallery (Center Sandwich, NH). He has been Artist in Residence at Marina Abramovic Institute-West (San Francisco) and was the pioneer White Mountain National Forest Artist in Residence (New Hampshire). He is co-founder and co-director of 4th Ward Project Space (Chicago) and is Assistant Professor of Art at Aurora University. Read an interview with James that previously appeared in At Length here.
Laura Mackin is an artist & educator based in Chicago. She received a BFA from Maryland Institute College of Art and an MFA in painting from the School of the Art Institute of Chicago (SAIC). After graduating in 2005, Mackin began teaching at SAIC and working with local art galleries as a catalog designer, database developer, and occasional curator. Mackin also spent several years in art conservation, working as a digital restorer. Recently, Mackin joined ADDS DONNA, an experimental curatorial group based in Chicago. Other curatorial projects include: Co-Director of H. Lewis Gallery, Associate Director of Gescheidle, and Director of Gifshop Project Space.
Chrome Green will be exhibited at Heaven Gallery, Chicago, September 11-October 18, 2015.