Exit Music (For My Sweetheart The Cheater)
—Brandi Nicole Martin
I.
T., I wish the wasps for you. I miss the day
before we met. I crawled along the bayou. Undead
I dragged my bad leg behind the good. In one story,
I love your bottles dotting still water. I relish
my body, what muscle's been melted to bone.
In another, I'm so sad I hear voices from whatever
limitless pit of the past boiling over—that man
with tanned hands and our unborn daughter
I killed with pills—I'm a harpy—five lovely
quiet wives—to thine own self be ruthless
in shades of green—that harlot you told
about your dick—I'm a mistress—I'm delicate down
to my tendons—strands of hair I dyed wine red—
once I bled for eight days straight—I would have cherished
any child with you—I found someone who fucks me
like you never could—he might have a wife—
he asks my favorite Buckley line—I'm such a romantic—
he likes better vinyl than you—we saw running water,
four foxes, wild turkeys frantic in the middle of the road—



II.
Even now, the nectar beads down my chin.
Even now I beg the fruit flies to rush in
because in Lilith's dream discord spread
into gardens. In Lilith's dream a tree stood
on its head. O T., I spin your lies
into spider silk. I rebuild my body from rain.
I press this man's mouth to the bruises—
something ruptures, something luminous—
and I see trauma in the pine trees, petechiae
in last rays on their branches. I make this man come
in his basement. His woman's lips part in surprise—



III.
Yes, T., I was anxious. Yes, T.,
you are the same as that plant,
how it climbs, twists like spines through
my ribs, leads away from the lungs,
and though you are a coward, you were still
my low rent lover, my tough-neck trucker
with a Psalm on his shoulder. My orangutan,
Philo Beddoe, my bare knuckle fight.
I thought that lake was aflame.
I thought I'd tire of hearing
your lady's fragrant name. It tastes
sharp as my new lover's cock in my mouth—
as it was in the beginning, is now and ever
shall be—the man you hate for what he did to me,
man who prays before he leaves
the cathedral, dips his thumbs in both water and ash.
We splay in our wheat field, we genuflect
on the deaths of our fathers, we speak
in come-ons, vise-grips, and rhymes.
He is not hairless, he does not sleep
eight solid each night, O T.,
he'd never dream of marrying me,
he is restless most in mid-summer,
knocks his head against doorways before I wake—
he's got the bodies of birds in his walls—
and I flinch when he asks if I feel blood.
I want to lick his cut just to know it's real.



IV.
I was never your biscuit, never your mender of antiques and flannel,
lone mole across your neck, your flea eggs your mange, the jaguar's
last lament, your Priscilla in hornrims asleep on the train. I have worn
the purple dress. I tore open my brash head the night I spider-webbed
the windshield. I'm not your tincture, your boozy mistress, this lame
sucker's up walking now so listen, T., the clincher—I elbow crawled
through car bombs and bar brawls just to find you. I'm not your limp
Virginia dick. I've tongued the staples from my skin, I'm the woman
swathed in bloodshot, rising up from unclean seas—wrapped in
piano strings—so take your grade-school lisp, take your fist right
through our drywall and double down. Toss your chips unchaste
and loose to rebel ground—what hard-on, O risk taker—I exist
inside the torso of your new broad, and no matter how awkwardly
you caress her ginger breasts,
it'll be me who's fucking you.



V.
Did we ever notice motionless?
What color was bourbon in the Lake Charles rain?


I wreck myself against the whet and wherever
gauzy blisters shed, palmetto bugs stream up
these debased walls unnatural as blood.
Yes, T., I said blood.
I like the sublime of it—sewn creature
who nests, her fellow messes himself
in the desert like some jackal or goat,
a dreadful feather drifts into the bowl…


You were right. Sometimes I'm raw
as the salmon. I can't manage
this deluge of thirst. In white, I remember
our premiere night on that bayou. I dredge up
that jukebox in neon and moon.


Years later, that bathroom. Its algae
and grout. I buried that vial to keep
your admirers out and you called me Lost daughter.
You said dead fathers don't beat credence
and two-stepping in the light.


(The poet wrote White is the color of mourning.)
My father spoke nothing for the flood in his throat—



VI.
Which you'd know fuck-all about (1. idiomatic, vulgar, ambrosial
sculptured naught) my T. (2. as in there are fuck-all decent bars round here,
as in fuck-all I could have done if I'd tried) and fuck all my poems—
inamorato—fuck this one—my cheater—because I can't resist the image—
a grizzly listless in a ruined city, a hawk atop a telephone pole,
I drew a line with my finger across (3. Nothing at all)
my neck, not for notched tin that split my knuckle to bone not for you
when you refused the glut of my blood (4. fuck-all that can ever
be sewn) but when foxes cry at dusk up here I hear coonhounds or a two-
year old girl—to our ears it sounds painful—(5. or very little)
they trace their noses over gloam-slick grass and my new
sweetheart's eyes are like those of a beaten down Jesus—I don't
tell him this—I tell him those foxes aren't waiting for rain
but hoping for snow // IN THIS WOOD WITHOUT END, AMEN…



VII.
A LAMENT // No boners, no masters. Only a gullet full of salt.
I LAY IN MY OWN PISS. T., I am ravished, wrapped in ivy,
in his madness and cum. Unhappiness of Edom, I sat on innumerable
waters. I guzzled the sins of the daughter. I DRANK UNTIL I WAS WARM AGAIN.
T., sometimes three oceans each night. Sometimes I dignify. Sometimes
in seaweed and snakes. I WILL DIE LIKE MY FATHER COVERED IN VOMIT.
In dew drops of alkali, in rumlust, bloat. I don't know what arose from
what belly of Dead Sea, so finish your dinner. Not everybody floats.



VIII.
Not all charlatans or Wranglers in boots made of gator.
Not all orgies on church stoops, on impotent porches—
not for all that easy crescent city would I submit to you.
I WANT TO SUCK THE GUN OFF SOMETIMESIf fish crawled they crawled at dawn you said. You said
Adam was deribbed for Eve to be. I bet Lilith thought fuck-all,
torch it all, what an unqualified crock of shit. I bet Lilith
HALF A LIEdrug her tongue along the rottenness—soil of your torso,
below-Mason-Dixon line grime. You hip-swinging
cadaver, bag of osseous matter and seersucker love, what
I AM JEALOUS OF A SATANISTpagan wasted trucker has come to run us off the road?
In smoked out foxholes shall the Lilith repose.
She touches herself. She skins off her clothes
I WILL NOT TRY TO EXPLAIN
BROW OF MY FATHER
SIRENS THROB THE WINDOWPANE
I FUCK MY JESUS TIL I'M RIGHT AGAIN
HER TITS HIS RAVENOUS MOUTH
LANDFILLS WATERFALLS MIRRORS TREES
HIS SEED MY CRAVING FACE
MY ADDICTION IS A SCALPEL
ALL TRUE
IS A JUGULAR OPEN FRUIT
I TASTE GRAVEL PAST MIDNIGHT
BLOOD ORANGE BLOOD MOON
VACANT STATE AND THE STOPLIGHT FALTERS
SLOSHED AT THE WHEEL
I RESENT HER UNRIPE NOSE
MY OBSESSION STUMBLES FROM LUNG TO HEART
MY FATHER'S BODY WAS UNMARKED
I DON'T KNOW SHIT ABOUT LOVE
OPEN SPACE MAKES ME ANXIOUS
I WANT TO RUN OFF THE ROAD
I WANT TO SINGE MYSELF AT THE STAKE
ALL OF GEORGIA IS CLOSED
I NEED WHAT I CANNOT CONTROL
I NEED WHAT PUNISHES ME
THE COYWOLF HOWLS AT POWERLINES
MY FATHER BRAIDS MY HAIR IN THE DARK
I ENVY HER IN THE PILLORY
MY YAHWEH FINGERS MY SCARS
SUNLIGHT CUTS THROUGH SHRUBS
I SMOTHER MYSELF
I SUCK OFF THE GUN
I WANT TO RUN OFF THE ROAD
HE KNEW ME WHEN I MET YOU
I SENT HIM PHOTOS
MY TONGUE MY EAGER TEETH
LIP OF THE BAYOU
EDGE OF YOUR PORCH
YOUR SHUT FRONT DOOR
MY THROAT HIS DICK
MY BODY MY DITCHThe grass wet with retch.
My father's aorta, the nearest neon exit sign.
T., I needed you.
I WANT TO RUN OFF THE ROAD //



IX.
AFTER I GO THE PITCH WILL SPLIT OPEN AFTER I LEAVE THE HUSK
THRESHES ITSELF WITH ABANDON I MISLEAD I DAMPEN I DISCARD
(My blue Hawaii, I loved you)I ERUPT FROM THE WINDSHIELD OF A CAR THAT SOMERSAULTS AGAIN
AND AGAIN IN ITS GLASSLESS AFTERLIFE THE RED BIRDS SCATTER
(The bog turns dry, I loved you)THE MOTOR COMBUSTS THE MUFFLER CAUTERIZES THE TENDERNESS
OF MY TENDONS ANYTHING FREE-THRESHING IS NAKED ANYTHING
(In mayflies, I loved you)BENEATH THE SURFACE IS INSUBSTANTIAL RAW CAUGHT IN THE ACT
OF CANTERING AQUEOUS OFF THE BRIM OF THE DAM ONE
(A high tide lie, I loved you)UNDERBRANCH DEFILES THE LAND A STONE DROPS A LONE ROCK
A WHEATFIELD RUPTURES I WANTED TO COME I WANTED TO COME
(I swallow the bayou, I loved you)INSIDE FIRE ANTS STRIPE UP YOUR GARBAGE CAN FUCK FUCK FUCK FUCK
T. ALL I WANTED WAS LOVE I HAUNT MY EMMANUEL I FANTASIZE
(Eye of the tempest, I loved you)HIS EYES ARE GAWKING DOWN BARRELS OUR BODIES BLOTTED
IN SOIL IN ANCIENT WINDOWS IN PASTURES UNDER A WHITE STEEPLE
(Two-line goodbye, I loved you)ATOP A HOLY MOUNTAIN BAWLING STRAIGHT INTO WHAT I MISTAKE
FOR GABLES FOR HANGING FOR THE MOMENT THE VERTEBRAE SNAPS
(His stoop hesitates into a lake)
(I kneel like a dog at my father's grave)
(I take the dead animal from the statue's open hand)
(I am not young anymore)
(I can't wear stiletto heels)
(I was never new to you)
(Mouth to mouth till I no longer have the strength)
(I laid a Bic at the headstone)
(I set it beside a porcelain ship with three sails)
(Sometimes my spine is compressed)
(Sometimes I get off on a breath)
(By get off, I mean climax)
(By climax, I mean plummet breast-first into love)
(I hate myself)
(I want to run off the road)
(To be deceased is to be free of fever in Mississippi,O roaming basset, blistered paws and swollen eye, no dust motes over our heater, how it
oscillates, no ottoman, no feet touching other soul's feet before dinner, nary a rock in nary a
hand, no thunder or rattling of houses, wisteria feeding into no walls, no lichen, no spider, no
clay caked four inches thick across concrete, no goldenrod or feral child, his tainted face, his rap
at the deadbolt during our foreplay, boring foreplay, it hardly matters—tuna casserole, gun
shows, coiled hose and the curtains always drawn—no mushrooms no docks no bellies full of
omelets no backs against the tile as the ceiling fan circulates circulates circulates)
(I'm hollow as a chasm)
(Vacant as the cool undertouch of its boulders)
(Lone cobweb gossamer on stone)
(Jesus' thumbprint inside me)
(Vein and ribcage come undone)
(They come undone)
(They just goddamn unravel)
(I lust for a father)
(I lust for someone lusting for me)
(Through starving tree leaves I hate myself)
(Through airwaves I hate myself)
(Mosquito hawk is another way to say mayfly)
(Ankle deep in rain I hate myself)
(In hand grenades I hate myself)
(Jesus flosses and I want to fuck)
(The glass shards glitter like the sun)



X.
Once it is written it cannot be erased—
2AM and Jesus' bedroom diffuses to ochre to midnight to violet to green—
I don't know anything anymore.
A branch in a knot of red hair. White grit in a pill-less bottle. The bottle itself is ablaze. Black coffee in a glass mug. Thin carpet of an office. Empty parking lot. Body tranquil by the sea.
And it's awful, T., that anytime anyone's on the cusp of some highness—waterfall or pulpit of the devil himself—one slip, certain death—quickened breath mimics interest. I mistake a mirror for a windowpane. I mistake freight trains for the next due storm. Ivy on my leg is not unlike incandescent metal. Wreckage or the fine side of a blade.
In moments like these, she spins in an orange grove. She is a dark shape in the mist. She has bright eyes and eight past lives. I envy her.
Sometimes I'm afraid I'll never walk straight.
I'll always hunch to one side and clutch my hip.
Your kitchen sink. Grease popping in the frying pan. My dresses atop some t shirts and jeans. Wolf blanket hanging from the curtains. Your palm. Her alabaster thigh.
Fuck scrambled eggs //
I know what it sounds like when a ligament tears //
Long drives mean everything to me.
A STONE DROPS A LONE ROCK
Roads potholed until Hartford and just past, a rabbit sniffing in the yard. Stained glass peacock, and these days my dinner bought live and still moving. Drops flying when the shell cracks and I wrench the white meat back with my bare hands.
(Jesus flosses and I want to fuck) //
I never knew anything to begin with.
I mistake sunlight for blindness. A halo for his hairs around a drain. Your waterlogged heart. The sheen of mine beating in colors with the lights out.
MY THROAT HIS DICK MY BODY MY DITCH
If I don't touch the ivy, the redness won't spread.
Apex of our hike, and I can see Canada from here.



XI.
Something brief and gray-white approaches. Something
electric, something toneless as any moment on any ridge
off which a body hangs. Realms away, the palm frond
folds into a rose. A thing can be both weak and delicate.
T., my shadow snags another on this most holy boulder.
T., my father never showed me how to hold onto a ghost
in that instant before it slips delicious into mist. A corpse
cannot fix the image. The spirit flattens. The spirit heaves.
I got some red in the sink. Fuck-all I could have done to save us.
And this is how I die. My seeking finger. Book of Bob Dylan.
The slight light of trauma from which nothing will rise.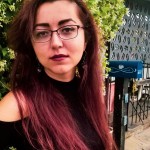 Brandi Nicole Martin's poetry has appeared or is forthcoming in Prairie Schooner, Colorado Review, Denver Quarterly, Bennington Review, Willow Springs, Washington Square Review, and Crab Orchard Review, among others. While working on her PhD in poetry at Florida State University, she was the recipient of the 2016 Emerging Writer's Spotlight award, selected by D.A. Powell.