at Length
Posts Tagged 'Maxine Helfman'
Tuesday, November 19th, 2013
interview by Darren Ching and Debra Klomp Ching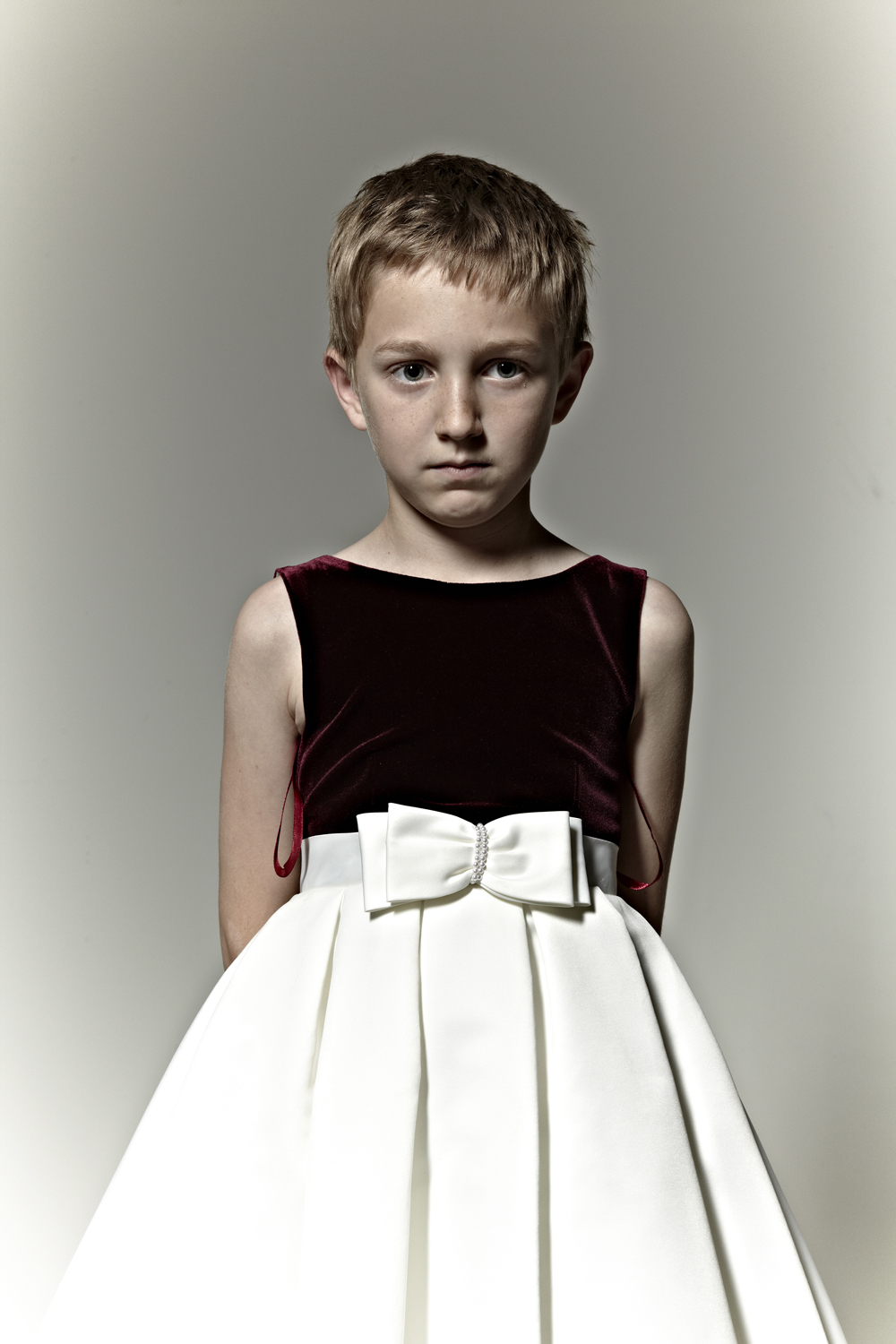 White Satin Bow, 2012 © Maxine Helfman
At Length: The series of boys in girls' dresses is called Fabrication. Tell us about the relationship between that title and the subjects.
Maxine Helfman: I've always been fascinated by the 'elephant in the room,' so I titled each piece by a description of the fabric of the dress, shifting the focus to the 'fabrication,' rather than the gender. It was also interesting that the word fabrication has another meaning—a falsehood.
AL: The boys in the portraits display all the usual emotions one would expect of a boy when dressed in a dress!
MH: I cast all of the boys to be 'typical boys.' The sessions were very matter-of-fact, but almost every one of the boys came out with the clothing on backward. Buttons and zippers in the back made no sense to them.
AL: The dresses you've used look quite retro. Were they selected specifically to reflect a specific era/time?
MH: I wanted the dresses to be more timeless, as those selected seemed to be.
AL: Why is that?
MH: It gives them more of an innocence and less reference to a specific time, keeping the time-frame more vague.
Blue Organza, 2012 © Maxine Helfman
AL: The color palette and incorporation of a 'falling away' of the background at the edges of your photographs also adds some value to this retro feel. Is there a particular aesthetic that you are referencing in this context?
MH: The edges and color palette appear in a lot of my work; it takes the photographs out of time and place. For the same reason, I also tend to shoot a lot of my work without props and on simple backgrounds, so those details don't overshadow the message.
AL: It's interesting that a certain level of 'age of innocence' comes across through the portraits. Were you looking to create this emotional response?
MH: While I take a simplistic approach to most of my work, the issues they bring up are much more complicated. During the process of producing the work—and showing it—I am always surprised at the observations and discussions they bring up.
AL: Also, does this in some way reflect a sense of loss, that only those born pre-1970′s might relate to?
MH: I can only speak for myself, but I think you might be right. We live in a world of too much information and no regard for privacy. I certainly grew up in a much simpler time.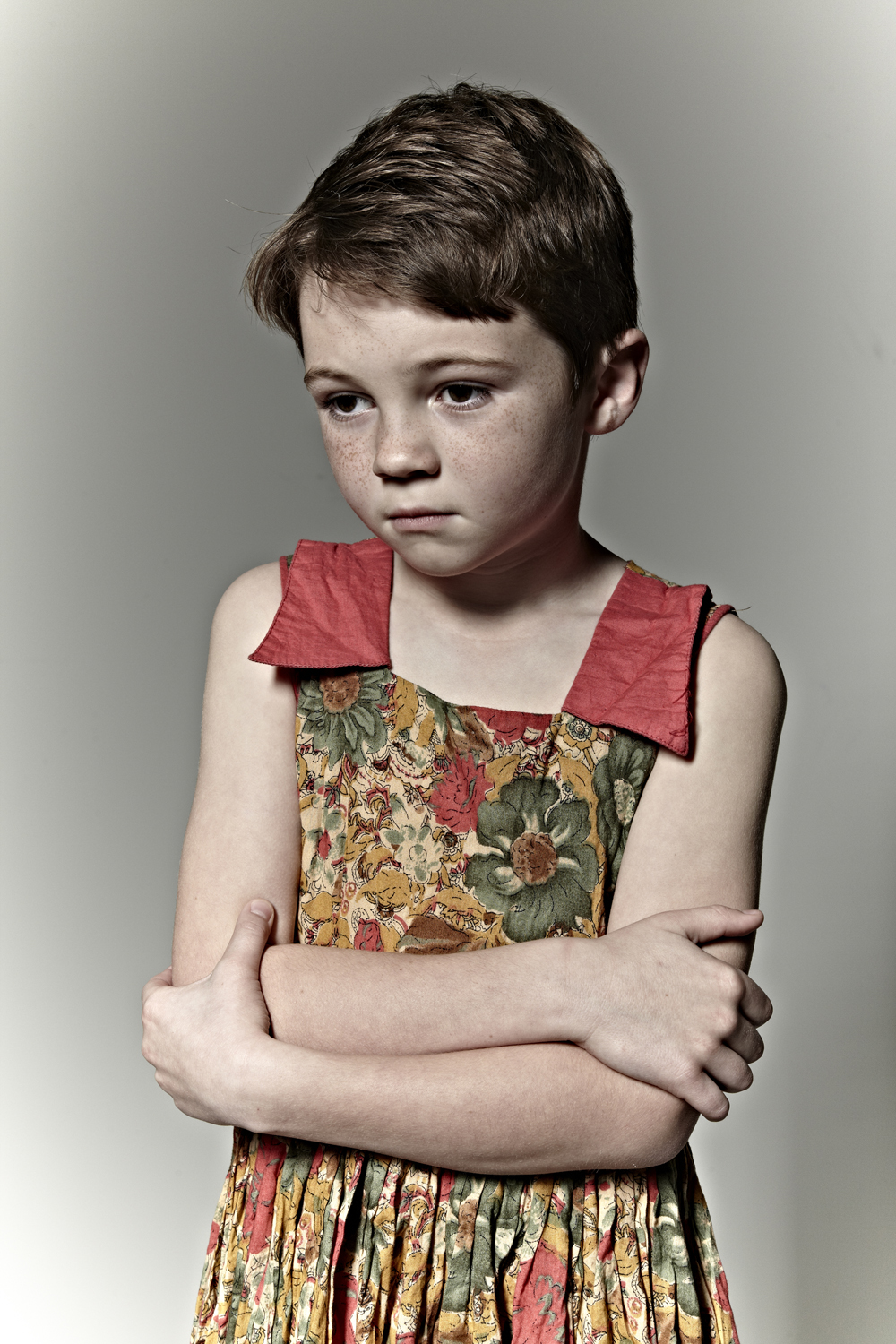 Size 7 Floral, 2012 © Maxine Helfman
AL: The personalities on the faces of the boys, and in their body language, are quite absorbing. More than one visitor seeing your work at the Klompching Gallery didn't realize that the subjects were boys at all. How challenging was it to capture the appropriate expressions that you were looking for with each subject?
MH: I was looking for an age that I knew they could make their own decision about whether to do the project. I wanted to make sure they were all comfortable with it. They were all very natural.
AL: Elsewhere, you've stated that you like to raise questions through your photographs, rather than answer them.
MH: I usually approach issues of race, gender, culture and identity. With the boys, it is simply a boy in a dress, yet some are bothered or disturbed by it.
AL: What are the questions that you want people to ask?
MH: What does it represent? What is it that makes it unsettling? Would girls in boys' clothes raise the same issues? My photographs are about questioning and challenging beliefs.
AL: Why is this important to your fine art practice?
MH: I'm not someone who wanders with a camera. The subject is usually an issue I've been thinking about, or an idea that comes from something I've heard—I listen to a lot of NPR and BBC. I think there are a lot of ways to get a message out. Sometimes that message is through photojournalism or documentary, or in my case it's fine art. It's important for me to use it as a voice.
Pink Iridescent, 2012 © Maxine Helfman
AL: And yet, identity, or the construction of identity, is a theme that runs through your other work. How do you see your different projects relating to each other?
MH: I take the same straightforward approach to challenge and confront the issues of identity. My series Historical Correction is a collection of what look like traditional Flemish portraits, but the subjects are African American.
AL: What are you working on now and what's coming up?
MH: I'm finishing up a series of African American geishas and have a few other series in the works.
Maxine Helfman is an American artist who was selected as one of the exhibiting artists for Klompching Gallery's 2013 edition of FRESH: The Wall/The Page/The Internet, July 17–August 10, 2013.
Tags: Fresh 2013, Klompching Gallery, Maxine Helfman
Posted in Photography | No Comments »