Cul-de-sac
—Patty Seyburn



House 1.
My neighbor would like me to write about
what we
(ALL OF US) (THE LADIES) (IN MY NEIGHBORHOOD)
know. She feels we are under-
represented in art, though I tell her:
no one is getting
represented these days, though
we could be recorded
in portraiture, were we
wealthy, beautiful, or odd.
(SOME OF US ARE ONE OR MORE OF THESE.)
Here is what we think about:
silent, kidney-shaped pools
bad seeds, lying (THEIRS) (OURS)
steeply rising property values
the hypotenuse between ballet and swim class
enough
whether heaven has marble or hard-wood floors
the uncertainty principle
a lost child, chaos theory
(A LOST CHILD)
Stop!
(THINKING ABOUT THINGS THAT WON'T HAPPEN)
(BECAUSE WE ARE VIGILANT)(AND LUCKY)(BECAUSE WE MUST BE).





House 2.
My neighbor sweeps
her arm grandly and points
fingers: here there are private sales on designer
bags and shoes and free-
floating despair on clearance rounders
and parties where one sad story skirts
the perimeter and there is pity
and greed, compassion and fear and faith lost
and found and when
did you get so holy? And how
did you get so skinny?
There is an extra bed and bath
for the imagination, a Jacuzzi and plush
towels for the muse and if you think
that couple of sad abstractions
doesn't like comfort,
guess again: polish up
the sterling, break out
the Bordeaux and let it breathe
in a goblet big as ambition
where wine expands to its full
expense.





House 3.
My neighbor wonders what we
(THE LADIES)
have in common. I tell her: we all
solve our problems while the shower
absolves us with wetwhite noise:
how to fix a(POEM)(MARRIAGE)(SPRINKLER)
correct a flaw in(CHARACTER)(CASSEROLE).
And fear, I tell her, fear
connects us, though it's no inoculation.
And our questions are similar
to the mid-day questions of our mid-century mothers:
why is door number two
always a mule, door number one
an appliance, and door number three
an ingénue who played Eliza
Doolittle in the third touring company
wearing a cubic zirconia?





House 4.
My neighbor thinks
we are not thinking well.
In the swingset of the mind, she starts
to say (PUMP, PUMP!) – I interrupt:
a little philosophy in each lunchbox will do
nicely, and some science in the thermos.
Rousseau believed in man's "perfectibility,"
Sartre thought our freedom terrifying, Spinoza
bade free will adieu, and Pythagoras
said that we are not the center
of the universe, though the odds
of raising children to err on the side of
compassion are nearly a million to one,
and worse if you get them
shiny, new bikes for their birthdays.
(WHICH WE DO.) (AND MORE.)
In their baskets, they carry
small tokens of privilege that they barter
for magic beans, freedom
from our protection, from our
spurned friendship with the world.
(ARE YOU SURE YOU CAN'T STAY?)





House 5.
My neighbor disapproves of
digression and while we're at it,
secular tendencies. I tell her: daily, we recite
the prayer to Elijah, the children's prophet:
Please let their lives be better, longer
than mine and he is inscrutable,
never a sip of wine, never a sign.
(CAN'T YOU GIVE ME A SIGN?)
In Eden, God did not curse
the child – then, adults were as children,
naked of guile until guilt
tracked them down and
the Black Forest witches
gave each princess 16 years head-start
before lacing love with poison
and giving them a good night's sleep.
Yeats prayed for just enough – not too much –
beauty for his daughter,
("… THE STRANGER'S EYE DISTRAUGHT")
and we would not wish for
beauty without purpose,
though they make a shocking, sweet pair.
We do not know what to wish for
(FOR THEM)(FOR US)
except time. Plato liked his measured
by heavenly bodies
(MEET ME AT THE SUMMER SOLSTICE)
but what did he know
of a day the duration of a year,
and years shouting back over their shoulders,
don't wait up. Back then, time was kooky,
it hardly passed except during wars
and orations.





House 6.
My neighbor does not find
this explanation satisfactory. She taps a manicured
Morse code on my Travertine countertop.
I take her out for a coffee and say:
when the furies fly up and buzz
around your head once you open the hatbox
of fate, do as Pandora did: love them
and want them to go away
until after they've had a bath, their hair
dries smelling of lavender and lavishly
buttered toast. Mumble
the story about walking to school
clutching a baked potato to keep you
warm (YOU ATE IT FOR LUNCH)
(AND WHAT OF THE WALK HOME?)
of having only a tire swing, a cousin
and a pony to play with
(AND WE WERE SO DAMN HAPPY)
(WEREN'T WE?)
and answer to No One
who always makes requests at dawn,
in the presence of dew, or manna, or quail,
or all of the above,
because (I SAID SO)
because (THE SOUL RETURNS TO THE BODY)
because (IS ENOUGH OF A REASON).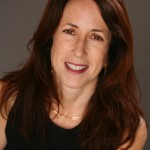 Patty Seyburn has published three books of poems: Hilarity (New Issues Press, 2009), Mechanical Cluster (Ohio State University Press, 2002) and Diasporadic (Helicon Nine Editions, 1998). Her poems have recently been published in Minnesota Review, Birmingham Poetry Review, and Zocalo Public Square. She is an Associate Professor at California State University, Long Beach and co-editor of POOL: A Journal of Poetry.