What is Death
—Kathleen Ossip


1.
In Hartsdale, home of America's first canine pet cemetery
and the world's first Carvel ice cream store, once home to
the Weckquaesgeeks, sub-tribe of the Algonquins, whose name
means "place of the bark kettle," which kettle appears on the town
seal today, one of the few communities surrounding
New York City that still has two working farms, both on



2.
Secor Road, not far from Homewood Road, where
a window cleaner drips clorox onto her house–she
dies, not at all like Lazarus.
A house full of beloved objects, a house where no dinner party
ends without whipped cream. When death comes it's big
and tastes like the beach. The contractor tells her he can't fix the stain.



3.
Death is something you can add to every day.
The drool spot. Neglect of hair nails teeth.
In the living room: antique marble collection, antique rattle collection, antique
postcard collection, antique rosewood piano, Chinese rug in gold and green, stack of
books by friends and family, photographs of friends and family, papier mâché mask
made by her daughter in fourth grade, something you can add to every day.



4.
In Hartsdale, there's a stone in the wheeling snow. Which is the nearest thing to wisdom.
Spirit, like an arrow, speeds up when it nears the target.
Her spirit, whisked to the corner, where the audience left it.
Death
a will dissolves. A jump past the dread of severance. No
new purchases now.



5.
My first time in Hartsdale, I thought, "This is the nicest house I've ever seen."
The audience quits the spirit,
a door, a wing, a billow, or a slight peeling.
In Hartsdale, there are wood and smelting materials to make nails.
There are hammers and saws and electricity to run them.
There is the Lone Guard who still stands, arms to the side.



6.
In Hartsdale, she is granted a complete passivity.
All observation, like a newborn.
Enter the Neolithic poppy, the gentling poppy
no one has to kick.
Morphine is the prototype narcotic drug and is the standard against which all other
opiates are tested \ like a mother's arms.



7.
Ferncliff Cemetery on Secor Road is famous as the burial grounds for many celebrities including Aaliyah, Malcolm X, Judy Garland, Jerome Kern, Joan Crawford,
Basil Rathbone, Ed Sullivan, Jam Master Jay, Gerry Mulligan, James Baldwin, Jim Henson, Tom Carvel, Oscar Hammerstein, Thelonious Monk, and Paul Robeson.
John Lennon was cremated there.
What??!! Above us only sky?



8.
In Hartsdale, we make a jump past the dread of severance.
The Lone Guard lends a pomp.
It doesn't hurt.
There is an awareness of duration,
something you can add to every day.
Recognition is no paltry occurrence.



9.
Above us only sky.
We don't have the tools, yet, to prove
much of anything. I believe in energy, spirit
heading to reunite with the source while our
bodies burn to ash or decompose. She would say:
Enjoy life on earth because this is all there is



10.
and I can't find the tools to disprove it.
How do you stay in heaven?
Is it a kind of sophisticated rewind?
Are there wood and smelting materials to make nails?
Are there hammers and saws and electricity to run them?
Also, who builds the houses and buildings?



11.
Is there such a thing as paint or are they all just wood-colored?
To create an image of what I mean
only makes it worse.
At some point, construction must end. And repairs.
In Hartsdale, an object of mourning is still an object.
Look, there are stars above us:



12.
foreground out of focus,
background gem-clear.
She is emerging (she has no choice)
into a place
like sex or childbirth,
one thing to the observer, something very different to the participant.



13.
Some people only feel comfortable in one world of definitions.
Some appreciate variety.
Scientists don't describe a star as big or small.
Stars are bright because they're massive and hot.
The Lone Guard protects what? What infinity looks like.
What does infinity look like? It hurts.



14.
Its bodilessness hurts.
We left from Hartsdale, her last summer,
to the beach, the Jersey shore, the last time
at last, where her spirit, trailing an oxygen tank, pinked up a bit,
and her body sat on the beach, a gray day, the last time,
above us only sky         before us the elastic sea.



15.
In Hartsdale, she confides all her secular traditions; also she begins to prioritize voting. It's no longer possible for anyone to stop where she is.
She wasn't a person for whom ideas were more important than people.
A biography associates bitterness with death: this
is not absolutely bad and not absolutely good. I was told: You need not have a feeling
about everything that happens. And everything can be repaired but.



16.
"But what will it mean for me?" (selfish)
"It's been more than a week, hasn't it?" (confused)
"Are you a little sad?" (best shut up)
Lying on her side like a baby or a stone
Icedrop
into paren(peace)theses.



17.
When you die, you die. Your body
returns to the earth and those living live on until they die too.
Your spirit doesn't float around after you're gone.
Your spirit is nothing more than your conscious and unconscious
thoughts and feelings. When your body dies, your thoughts die too.
This I don't believe or disbelieve.



18.
Hartsdale "is not down in any map, true places never are." (Melville)
In Hartsdale she makes her "effort at conclusion." (Dickinson)
In Hartsdale, her last night, I scrubbed the stove, which had been neglected.
I rubbed her back.
Neither big nor small but massive and cold,
her bright face shone no more.



19.
Though "not down in any map," Hartsdale is a hamlet
and a census-designated place (CDP) located in the town of Greenburgh,
Westchester County, New York. It is full of cemeteries
littered with those who wished themselves permanent.
Nature retains its emotional power (look there are stars above us!)
which hurts.



20.
At some point, nothing more can be built.
The Lone Guard releases the body-spirit
which was beloved in the house that was beloved.
The love grows elastic, something very different to the observer,
the extreme
natural of it, the extreme unnatural.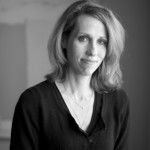 Kathleen Ossip is the author of The Cold War, which was one of Publishers Weekly's best books of 2011; The Search Engine, which was selected by Derek Walcott for the American Poetry Review/Honickman First Book Prize; and Cinephrastics, a chapbook of movie poems. Her poems have appeared in The Best American Poetry, Poetry, Paris Review, American Poetry Review, Boston Review, The Washington Post, The Believer, A Public Space, and Poetry Review (London). She teaches at The New School in New York and online for The Poetry School of London. She has received a fellowship from the New York Foundation for the Arts.