Two Poems
—Tess Taylor



SONG WITH SCHIST & COUNTY LINE
The town of El Cerrito, CA, pop. 23,000, was first incorporated as Rust, after the name of one of its most prominent nineteenth-century Anglo farmers.


i
The little hill exists, the one
the town was named for. It is
a huge real hill, not "Lakewood" or "Happy River"
where the name points to a thing that never was
or is so fully paved
no one can find it now.
Our real little hill
looms just south of town.









ii
Before this town was town it was
"unstable real estate,"
the last Castro inheritors
of a Spanish land grant
locked in US land dispute.
Their great-great-grandfather arrived
on the De Anza expedition. They claimed the land
for Spain, then Mexico. They
built their adobe hacienda
in the shadow of the hill, near
a radiolarian outcrop
of Jurassic limestone
on windswept treeless grassland
here when mastodon
wandered to the Farallones.
Their house faced the glittering span
we now call the Golden Gate.









iii
After this stopped being Mexico
the Castros traded land in parcels
to pay off American lawyers.
Japanese immigrants acquired
wide plots for building nurseries
along the streetcar line. They took roses each day
by ferryboat to San Francisco—
( had to purchase land
under the names
of their American-born sons).
 









iv
there were also
chicken farmers
greyhound racetrack mobsters
retired prospectors & escapees
from the 1906 earthquake,
Italians & backyard vineyards
& (I hear) a tunnel
under Central Avenue
where gangsters cached bootleg liquor
(never confiscated during Prohibition raids).
Hillbillies played the Six Bells
(now the Burger King).
They called our town Stege, then Rust.









v.
Some people from the Stege church
lit up the hill
with their white enormous cross.
Easter 1933, they burned it for the Klan.
(I only lately learned this—
latest in the line of histories
they don't teach / I didn't know–)
–all of us were always perched
atop a Ring of Fire—
Developers slapped up houses
& quarried blue-schist hillside
& used upthrust seafloor
for constructing modern freeways;
& Dorothea Lange traveled from Berkeley
to photograph migrant workers
& the Portuguese farmer Balra
sold his ranchero up the hill–
it became split-level tract homes
the Japanese were not allowed to live in
"nor any person not of the Caucasian Race,"
the titles said.

–great moving fissure where the earth
destroys and births itself–
 









vi
In Richmond, the ship industry was booming
& workers from the South traveled
by train & Model T
across Depression valleys—
Okie & black—all here to work—
(only some allowed to buy
the bungalows of California)
By then it was unclear
where the many membersof the Castro family were.
They had mostly scattered.Unclear if by then the redwood
on the streambedin what became our backyard
had been planted. Now the hill
was bowling alley, Wild West Gun Shop.


–it also tears–









vii
Dusty, crumbling, facing the Golden Gate
the hacienda stood as it had stood
as three nations claimed it.
Arch corridors peered
past live oaks to the bay.
A few historians told me
how it became a brothel
in disrepair
& just as preservationists
began to try to save it,
it mysteriously burned. Overnight
some developer
slapped up the boxy Plaza—









viii
They plunked a BART station down
on the lumberyard.
The racist codes lived on
in escrow files.
A few families did
return after internment.
Unbuilt lots still gape
along the Avenue.
On the hill, the Lions
light their hot white cross at Christmas.
Beneath it now we all
can buy cheap wine at Trader Joe's.
The local historian says
he does not know about the Klan.
Hidden in a cave, Ohlone petroglyphs.
In our city hall: One dense adobe brick.
 
BERKELEY IN THE NINETIES
again for C. & J.

Too late for hippie heyday
& too young to be yuppies
we wandered creeksides & used bookstores.
There were still so many movie theaters.
Our parents marched against the many wars
& fed us carob chips. We foraged
in free boxes for old wrap skirts
but had absorbed consumerist desire,
& also longed for new J. Crew.
There was no internet yet & so we listened
to Steve Miller Band on repeat
& cut geometry to skinny dip
in the Essex Street hot tub.
We knew the code, just as we knew
to disapprove of America.
We walked out of high school
after Rodney King. We helped our mothers
shop for bulk oats at the Co-op.
We felt we could & couldn't
solve it. We could say systemic racism
but couldn't name yet how our lives were implicated.
We drove our grandmothers' Volvos up Marin
& watched the spangled world
from Grizzly Peak. We climbed Mount Diablo
in spring rain. We learned
the meaning of the word hegemony
but thought the word itself was hegemonic.
We got high to the patter of the windchimes.
When we missed our friends
we wandered to the farmers market
for bruised peaches. Bruised peaches were
our kind of revolution. There was not internet yet & so
we made elaborate cutout flyers to invite
our friends to picnics up at Codornices.
Bodies in space were revolution.
Some of us were feminist & queer.
Some of us wore wool sailor pants
& passed out at bad university parties.
Oh my god, that was embarrassing.
Some of us cut class to spend
days reading in the dank public library.
Alone in our aloneness we fumbled
with one another's bodies
in dim alleyways near City Lights.
Our revolution: under cherry blossoms,
reading Virgil. One of us made red
mushroomy kombucha. One of us
taught the others to eat burdock.
The burdock eating didn't really take.
Some days we paid the toll
for people behind us
on the Richmond-San Rafael Bridge.
At Steep Ravine howled Whitman at the sea.
Most days, we were a crumbling outpost. Nearby
the street preacher, Paul of the Pillar,
spoke in helter-skelter baritones from
liberated air on the Cal campus.
We too believed in liberated air & some nights
bought Paul sausages at Top Dog.
Under the Campanile, we discussed
how Ginsburg was a sellout now because he posed
for Gap ads in wide-legged chinos.
Chinos were not the revolution.
Trigonometry was not the revolution.
We memorized short poems by D.H. Lawrence.
We were quick fish who read
Gary Snyder in someone's dad's Mendocino cabin.
Some of us climbed ferny gullies
on winter solstice & got topless.
Decorated each other in white reindeer lichen.
Recited the Tao Te Ching. Had sex on a cliff.
Reindeer lichen was the revolution.
Our new breasts in rain were revolution.
We craved transcendental revelations,
the radical & burning future:
We lobbied for condoms in the high school bathrooms
even though the bathrooms needed toilet paper—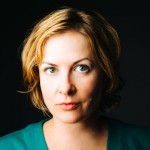 Tess Taylor is the author of five collections of poetry. Her chapbook, The Misremembered World, was selected by Eavan Boland for the Poetry Society of America's inaugural chapbook fellowship, and The San Francisco Chronicle called her first book, The Forage House, "stunning." Her second book, Work & Days, was hailed as "our moment's Georgic" by critic Stephanie Burt and named one of the 10 best books of poetry of 2016 by The New York Times. Taylor's work has appeared in The Atlantic, The Kenyon Review, Poetry, Tin House, The Times Literary Supplement, CNN, and The New York Times, and she has received fellowships from MacDowell, Headlands Center for the Arts, and The International Center for Jefferson Studies. She served as Distinguished Fulbright US Scholar at the Seamus Heaney Centre in Queen's University in Belfast, Northern Ireland, and has served as the poetry critic for NPR's All Things Considered for over a decade. In spring 2020 she will publish two books of poems: Last West, part of Dorothea Lange: Words & Pictures, at the Museum of Modern Art, and Rift Zone, from Red Hen Press. She teaches poetry and nonfiction at University of California, Davis.