The Classics Illustrated Comics Project
—Five Cartoonists
For our first-ever comics post, At Length asked five cartoonists to consider adaptation. We wrote:
If you were hired by Classics Illustrated and told to choose a book—any book!—to adapt into a comic, what would it be? Why that book? What would it look like?
The responses dig into the problems of transforming work from one medium to another with wit, sympathy, and just a touch of sarcasm. We're very pleased to present new work by Kevin Cannon, Pascal Girard, Melissa Mendes, Andrea Tsurumi, and Noah Van Sciver.


***


A "CLASSIC" IDEA
by Kevin Cannon







***


By Pascal Girard







***


MEDIUMS
by Melissa Mendes







***


THE PEEP OF DAY (1836)
by Andrea Tsurumi







***


SEX, DRUGS, AND COCOA PUFFS
by Noah Van Sciver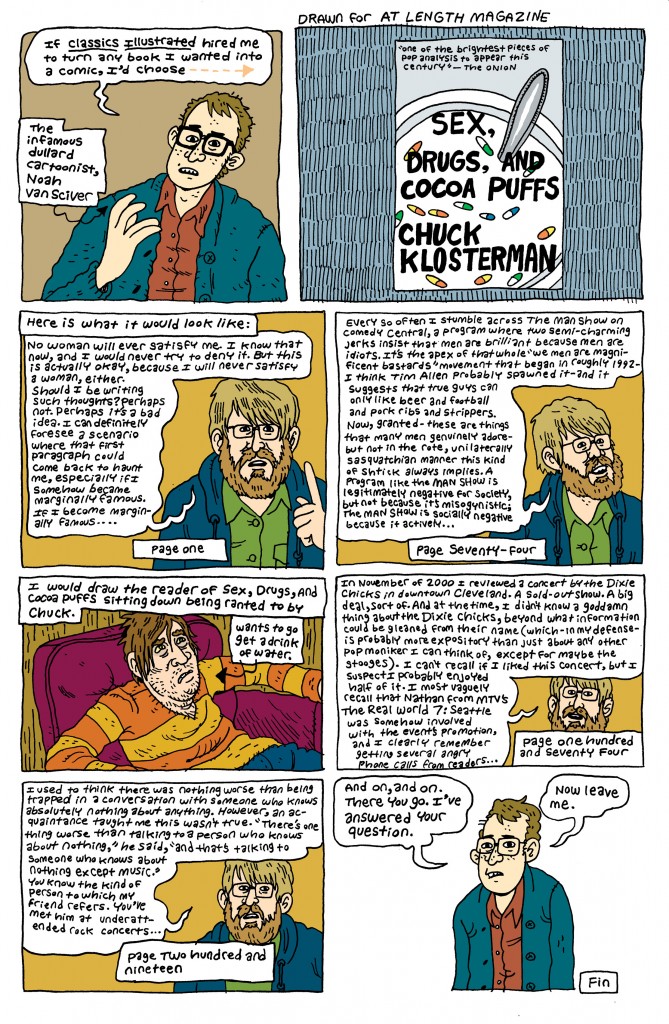 ***


***


Kevin Cannon wants to be an important businessman, but mostly he just draws comics, such as the Eisner-nominated graphic novel Far Arden, and the much-lauded mini comic Beard Hero. In his free time he listens to professional hockey on the radio and collects first-edition Arctic narratives on eBay.
Pascal Girard was born in Jonquière in 1981. He received his interdisciplinary Bachelor of Arts from the University of Quebec in Chicoutimi in 2004. He lives in Montreal. His book Bigfoot won the best book of the year at the Doug Wright Awards 2011.
Melissa Mendes is a cartoonist and illustrator living and working in Hancock, MA with her best beau Charles Forsman and their best cat Bruce.
Andrea Tsurumi is an illustrator and cartoonist living in Astoria, Queens. She's also currently an MFA student at the School of Visual Arts.
Noah Van Sciver, a native of New Jersey, was born in 1984 and is currently located in Denver, Colorado. He draws a weekly comic strip for the Denver alternative paper Westword called "4 Questions" and is the creator of the much-loved comic book series Blammo. His work has appeared in Mad magazine, Mome, The Comics Journal, Best American Comics 2011, and numerous other comics anthologies. He has recently completed his debut graphic novel about a young, melancholic Abraham Lincoln called The Hypo for Fantagraphics Books.